The ratio of delayed flights operated by Vietnamese airlines in the first six months of 2017 dropped 3.6 percentage points from the same period last year to 12.2% despite a 6.2% increase in the number of total flights reaching 136,400.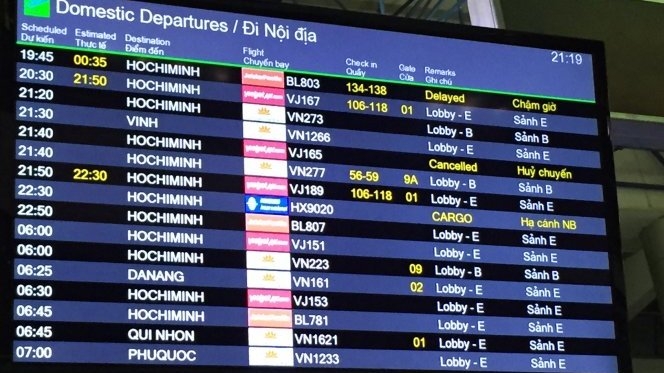 The first half of 2017 also saw 585 cancelled flights, equivalent to 0.4% of total flights, down 0.2 percentage point from a year ago.
According to the Civil Aviation Authority of Vietnam (CAAV), the most common reason for delays was late-arriving aircraft, which accounted for more than 70% of total delays while air carrier delays were the second most common at nearly 20%.
Other reasons included airport services, flight management and operation, and inclement weather conditions.
CAAV affirmed that all airlines have made efforts to bring down the ratio of delays and cancellations compared with the same period last year amid a rise in flights and passengers and little improvement to airport infrastructure.
In June alone, the proportion of delays was 15%, higher than the previous month but lower than the summer peak in June last year.
As an airline with nearly 50% of the domestic market, budget carrier Vietjet has implemented a wide range of measures to improve its on-time performance, which reached 85.6% in the first six months of 2017, up 2 percentage points from the previous year.
Meanwhile in order to reduce the ratio of delays and cancellations, the CAAV has instructed airports to prepare sufficient staff and equipment during peak hours, and asked airlines to reserve 10% of their fleet as backup to deal with unexpected circumstances that cause delays and cancellations.
Nhan Dan