Vietnam's housing market is improving with a longer real estate cycle, according to property consultancy firm Savills Vietnam at a conference about stabilising the macroeconomy held on June 27.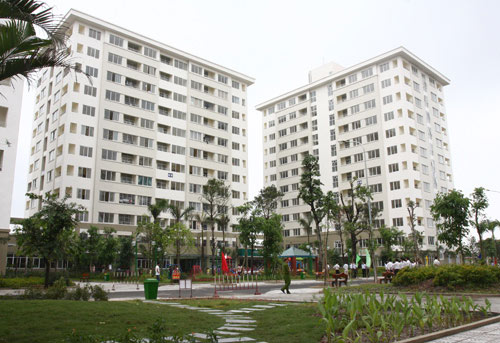 Pham Van Dai, head of research and consultancy at Savills Vietnam, said real estate market played an important role in the operation of the economy. 
"The large-scale property market is especially crucial in countries like Vietnam where the markets for financial assets are still underdeveloped," he said.
On the average, a household spent 30-40% of its income on housing. In 2016, about 50,000 apartments, worth USD6bn or nearly 9% of the cities' GDP, were sold in Hanoi and HCM City.
"Turbulence in the real estate market can greatly affect the macroeconomy. The slump of the real estate market played an important role in the 2008 financial crisis and the problems in Vietnam's banking system now," he said.
However, the ups and downs in the real estate market remain largely unpredictable. 
Firstly, the real estate market is complicated and affected by numerous factors such as inflation, gold price, personal income, and the size of a population. 
Secondly, the real estate market is not as transparent as the financial market. 
Especially in a situation where Vietnam doesn't have indicators to effectively track the housing market. Finally, local research is of poor quality.
However, according to Savills, the local market has improved as not many people estimate the real estate value in gold as previously and investors are more professional now.
"There are grounds to believe that the market is stabilising with a longer real estate cycle. In general, prices haven't gone up because of investors' expectations or anything," Dai said.
The real estate cycle normally consists of four phases including the recovery, expansion, hyper supply and recession. 
Lending rates have only gone up by 0.5 percent in the past year. The market won't go into recession phase if interest rates and the macroeconomy don't experience any adverse changes.
Another important view is that previously, easy bank loans for investors with low interest rates had led to excessive supply in 2011. 
Now, most bank loans are for buyers so the danger of having excessive supply will be controlled. 
The buyers will reflect more accurately the changes in the market and help investors as well as the banks to spread the risks.
"The local housing market is in the last stage of the expansion phase and at the start of the hyper supply phase. However, there are positive signs that the market is adjusting itself and will have longer real estate cycle than previously," Dai said.
Dtinews