Plastic companies are facing possible bankruptcy after 4,000 tonnes of plastic scrap, raw material for their production, have been held up at ports for tests to ensure they meet import criteria.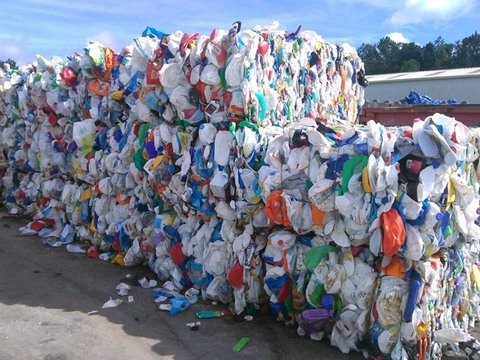 Around 5,000 containers of plastic scrap are being held at ports for up to two months now and importers have to pay charges of $50 – 100 per container per day of delay. — Photo vietnamnet.vn
The Government has stipulated that only "clean" plastic scrap with less than 2 per cent impurity can be imported.
But the industry complained indignantly that authorities have not defined "clean."
Ho Duc Lam, chairman of the Viet Nam Plastics Association (VPA) told an industry meeting on Tuesday: "If the Government does not have any solution for import of the plastic scrap [at ports], many enterprises would go bankrupt."
The industry depends on import of plastic scrap to feed 80 per cent of its production.
The General Department of Customs cracked down on scrap import in June fearing Viet Nam would be flooded with scrap after China slapped a total ban on imports of all kinds of scrap.
Nhua Le Tran company is one of Viet Nam's 10 largest plastic scrap importers and among the worst hit by the ban.
Tran Vu Le, its director, said: "We have signed contracts to supply plastic through the year but now we cannot because of lack of raw materials.
"Locally recycled plastic cannot be used because of poor quality.
"Now we have two choices: One is to pay compensation to our customers [because we cannot supply], the other is to use non-recycled plastic instead of scrap. In the latter case we will suffer 10 per cent losses instead of making 10 per cent profits."
The Viet Nam Plastics Association also warned of huge losses for the industry.
Around 5,000 containers of plastic scrap are being held at ports for up to two months now and importers have to pay charges of US$50–100 per container per day of delay.
Each container is worth $10,000.
"The importers do not know what to do with the containers because these charges might be higher than the value of the scrap," Lam said.
"Enterprises have had to suspend production and pay compensation to buyers due to delays."
The scrap belongs to 50 member companies of VPA and 10 other importers.
Lam also revealed that many companies have invested VND100–200 billion ($45 – 90 million) in facilities to recycle plastic scrap and are languishing with feedstock.
"We fully agree with the Government's policy to ban all kinds of scrap that cannot be recycled to protect the environment.
"But the Government should find a solution for importers who have licences to import plastic scrap."
He urged authorities to speed up inspection of the scrap containers.
The VPA said: "The Ministry of Natural Resource and Environment stipulates that plastic scrap must be 'clean' and impurities must not exceed 2 per cent.
"The conditions are very hard for importers to meet because there is no definition of 'clean' plastic scrap and how can we prove whether there is 1 or 2 per cent of impurities?"
Plastic has been one of the fastest developing industry in Viet Nam in the past 10 years, growing annually at 15–20 per cent.
Last year, the industry imported 4.9 million tonnes of plastic pellets and a huge volume of plastic scrap, and demand is growing at 13 per cent a year.
In the first half of this year, scrap import doubled year-on-year. — VNS