Masan takes full ownership of tungsten processing facility
Masan Resources Corporation (UPCoM: MSR), one of the world's largest integrated industrial tungsten mineral and chemical producers, announced that Nui Phao Mining Company Ltd. (NPMC), a wholly-owned subsidiary of the company, has acquired H.C.Starck GmBH's (HCS) 49 per cent stake in Nui Phao-H.C.Starck Tungsten Chemicals Manufacturing LLC (NHTCM) for the total cash consideration of $29.1 million, and now owns 100 per cent of this company.
NHTCM, previously a joint venture between NPMC and HCS, was established in 2013 and is a leading producer and global supplier of tungsten chemicals (ammonium paratungstate [APT], blue tungsten oxide [BTO], and yellow tungsten oxide [YTO]).
NHTCM processes tungsten concentrate (TC), the main product of NPMC, into higher value-added tungsten products. In consideration of NHTCM's contribution to the development of Vietnam's high-tech industries, the Vietnamese Ministry of Science and Technology has awarded it the "High-Tech" Certificate. NHTCM is a globally recognised brand and a trusted supplier for many high-tech industrial manufacturers.
Craig Bradshaw, CEO of the company, said, "This acquisition is a critical step to deliver our vision of becoming a fully integrated downstream tungsten chemicals business of global scale and influence. It consolidates our ownership of advanced processing technologies. We are the Number 1 primary TC producer with the exception of China, with 36 per cent of the non-China market, and we have clear operational plans to become the largest producer and supplier of tungsten chemicals globally."
Karlheinz Reichert, CEO of HCS' Tungsten Division, said, "We have enjoyed working with Craig and his team at NPMC over the last five years. The partnership resulted in a robust two-way exchange of business benefits, technology ,and culture and we will continue our relationship with NPMC as a customer. We look forward to remaining contractually and personally associated with NPMC as a long-term customer of choice for supply of its high-quality, value-added tungsten chemicals, APT, BTO, and YTO."
Danny Le, head of Strategy and Development at Masan Group, said, "From a financial perspective, this transaction will enable us to consolidate our cash position by eliminating minority interests. This provides MSR better flexibility to pay down debts or to declare cash dividends to shareholders over the medium-term. The acquisition is also consistent with the five-year strategy that we have outlined for MSR: to develop an integrated business model to generate strong cashflows and profits through commodity cycles. In addition, this will better position Masan Resources for strategic partnerships in the near future and pursue an international IPO to unlock shareholder value."
A concrete action plan has been prepared to integrate the operations of NHTCM and NPMC and cost efficiencies are expected to be realised from the first quarter 2019 onwards. The combined business is expected to yield an improvement in NPAT Post MI margin of 5 per cent in the second half of 2018, compared to the first half of this year, resulting in achieving the expected NPAT Post MI of over VND1 trillion ($44.2 million) for the fiscal year of 2018.
Authorities look into Con Cung's origin of goods issues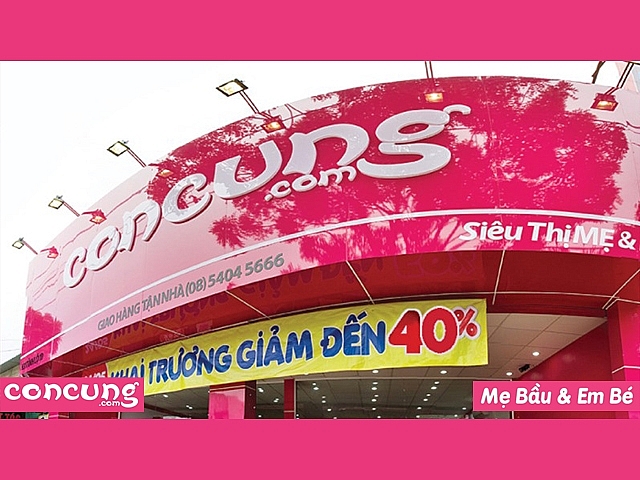 After detecting signs of violating regulations on the origin of goods, Deputy Prime Minister Truong Hoa Binh has just directed the Ministry of Industry and Trade (MoIT) to submit a report on Con Cung JSC, one of the leading domestic maternal and baby products distributors, before September 1.
Accordingly, the MoIT have to conclude whether Con Cung violated regulations on the origin of goods, then carry out the appropriate sanctions.
At the working session between Con Cung and the MoIT's Market Surveillance Agency on July 30, Tran Hung, deputy director of the agency, said: "Despite the clear signs of violations, we have yet to reach a conclusion."
At the session, the Ho Chi Minh City Market Surveillance Branch outlined seven signs of Con Cung's violations. These include: its stores are unable to show legal documents to prove the origin of imported goods; the information on the packages of "Made in Vietnam" goods is written in Latin instead of Vietnamese; and the firm is sticking labels on products that provide information different from that on the packaging.
Explaining the reason of behind not having the legal documents to prove the origin of goods, Nguyen Quoc Minh, chairman of Con Cung JSC's Management Board, said: "Con Cung has only one legal dossier for each order, but with 350 stores, Con Cung cannot show all legal documents for all orders at the same time."
The firm also stated the recent issues have significantly impacted its prestige, and its sales fell by dozens of billions of VND over the last month.
However, contrary to what Con Cung stated about reduced sales, within the last few weeks, the firm launched seven new stores in Ho Chi Minh City, the central city of Nha Trang, the southern cities of Vung Tau and Ca Mau, and the Central Highlands province of Dak Nong.
The Ho Chi Minh City Market Management Department inspected 88 Con Cung stores in the city and confiscated more than 120,000 products in order to ascertain their origin.
The signs of violation came to light on May 22, when after buying seven baby products in a Con Cung store in Ho Chi Minh City's Tan Binh District, Truong Dinh Cong Vinh discovered that the original tag of a VND329,000 ($14.50) pink suit coded CF-G127011 was replaced by a CF (Con Cung Fashion) tag indicating "Made in Thailand."
Vinh called the firm to clarify the issue, but instead of explaining the origin of the item, Con Cung apologised and gave him a VND1 million ($44.24) voucher. Dissatisfied with the way the firm attempted to sweep the issue under the rug, Vinh sent a letter of complaint to the Vietnam Competition Authority.
"I do not mind the firm's apology or the compensation," said Vinh. "I just want the firm to clarify the issue because the quality of the goods."
On the evening of July 26, Con Cung released a statement detailing information on the origin of the CF-G127011 product. This information included bills, the process used in offering the product to the market, and a letter which confirmed the manufacturer's mistake in tags placed on the product batch.
However, Con Cung made no mention of its other products which have been confiscated by the local authorities.
MEF II sells final investment in Vietnam
MEF II has successfully divested 100 per cent of its final remaining investment, resulting in the fund achieving a net return multiple of 4.5 times.
Mekong Capital has just announced that the Mekong Enterprise Fund II (MEF II) has successfully divested from Asia Chemical Corporation (ACC) to gain $8.9 million, generating a gross return multiple of 2.6 times and a gross IRR of 15.1 per cent for the investment in ACC.
MEF II initially invested $3.8 million in ACC in 2011, which was its 10th and final investment. Established in 2001 as a privately-held company in the food industry, ACC has become a leading distributor of high-quality specialty ingredients, chemicals, non-oil related commodities, and other materials, sourcing from worldwide suppliers and selling to leading enterprises in Vietnam.
ACC achieved a cumulative annual net profit growth rate of 18 per cent over the holding period of the investment.
Generally, MEF II achieved a net return multiple of 4.5 times and net IRR of 22.5 per cent for its investors. This marked it as one of the most successful funds in the Asian private equity scene.
Launched in 2006, MEF II is the second private equity fund managed by Mekong Capital. MEF II's notable investments included Mobile World (Vietnam's largest nationwide retailer of mobile devices and consumer electronics), Golden Gate (the leading restaurant chain operator in Vietnam), Vietnam Australia International School (a leading private bilingual K-12 school in Vietnam), Mai Son (a leading fashion retailer), and ICP (personal care products).
Earlier, MEF II completed the sale of its last remaining five million shares in Mobile World Group in January 2018, resulting in 56.9 times of gross return multiple and 61.1 per cent gross IRR, making this investment one of the most successful investments in the history of Asian private equity. Prior to that, the fund generated a gross return of 4.5 times and 9.0 times for its investments in Vietnam Australia International School and Golden Gate, respectively.
Mekong Capital is a Vietnam-focused private equity firm specialising in consumer-driven businesses and looking to invest in fast-growing companies, with ambitious expansion plans, and a commitment to building management teams that will successfully execute those expansion plans.
Mekong Capital's funds have completed 33 private equity investments in Vietnam, of which 25 have been fully exited. Its latest investment vehicle, Mekong Enterprise Fund III (MEF III), has to date announced investments in seven companies, including lending firm F88, logistics companies Nhat Tin and ABA, restaurant operator Red Wok, Ben Thanh Jewelry, Yola Education, and mattress retailer Vua Nem.
Ba Ria-Vung Tau shows good economic performance
The southern province of Ba Ria-Vung Tau has reported solid growth in the first seven months of the year.
Speaking at a meeting on August 14 to assess the socio-economic and security situation, Deputy Director of the provincial Department of Planning and Investment Nguyen Van Dang said industrial growth in the period was 8.25 percent.
Tax collection rose by 24.4 percent year-on-year to 46.68 trillion VND (2.05 billion USD).
The province had attracted 1.91 billion USD worth of foreign direct investment (FDI) in 32 new projects and 12 others that had increased their capital.
It also granted licences to 29 domestic projects with total registered capital of 13.62 trillion VND (600 million USD).  
Officials from departments, agencies and localities discussed the steps they should take to achieve socio-economic targets set for the rest of the year.
Accordingly, the province will continue to focus on administrative reforms, improving the capacity and service quality of its administrative apparatus, improving its investment climate and its position in the provincial competitiveness index (PCI), successfully organising the Ba Ria-Vung Tau Sea Festival to be held from August 28 to September 5, and other tasks.
The province held another meeting on the same day to discuss the implementation of key projects in Vung Tau, under the chair of Nguyen Hong Linh, Secretary of the provincial Party Committee and Chairman of the People's Council.
Hoang Vu Thanh, Vice Chairman of the city People's Committee, said many key works like dredging the Ben Dinh Canal, upgrading Bai Sau Beach and improving technical infrastructure at the Phuoc Thang Handicraft and Small-scale Industry Park, Chi Linh Area, Bau Trung Cultural Park and New Urban Area, Bau Sen Park, Go Lang-Long Son Urban Area, and DIC Star Tourism Complex have begun.
Delegates suggested that city authorities and the province's relevant departments and agencies should have closer cooperation in carrying out the projects to clear obstacles and speed up work on key projects.
Central province to retreat delayed projects
Twenty four projects in the central province of Thừa Thiên-Huế may have their licences revoked because of serious delays getting off the ground.
For the last 10 years, the province had introduced several incentives to attract investors.
But despite this, many projects which were allocated land have been delayed for years.
For example, in 2005 the local government allocated 150ha of land in Trung Thạnh Village of Phong Chương Commune to HCM City-based Bảo Toàn A Company to build a silicate factory.
After receiving the land, the company did not start its construction despite pressure from local government and now 13 years later, the land is still wasted.
Delays have caused serious headaches to local government officials as the land could not be re-allocated to other companies in need.
Lê Viết Mẫn, a local farmer told online newspaper vov.vn many households did not have land to grow on, even though the factory land wasn't being used.
"If the 150ha of land were given to the local people, it would help people much", said Mẫn.
" If the land used for planting cajuput trees, people can earn dozens of millions of đồng a year", he said.
A similar situation happened in Đức Phú Village of Phong Hòa Commune.
Nguyễn Khoa Toàn, a commune's official said: "The people had allocated more than105 ha of land for the project with investor's promise of creating 300 jobs for the locals. But the project was stopped a few months later".
"It would have been better if the land were used by the locals for agricultural production", Toàn said.
 Dozens of projects in industrial zones of Phong Điền, Phú Bài, Chân Mây - Lăng Cô faced similar problems.
Last August, the provincial People's Council asked the People's Committee to consider revoking delayed projects with total land areas of 350ha.
So far, the provincial People's Committee had stopped operations at 12 projects in some industrial and economic zones including the solar battery project, Lập An -Lăng Cô resort project, dredging in seaports of Tư Hiền, Tư Dung and Thuận An seas.
The total registered capital of the 12 projects were VNĐ7.3 trillion (US$313 million) but only VND50 billion (US$2.1 million) has been made.
According to Phan Thiên Định, director of the province's Planning and Investment Department, the main reason for the delay of projects was financial and management weakness of investors. 
Ha Noi promotes supply chains     
Ha Noi will support the development of supply chains in the city, from production to consumption, to control quality, increase value of products, as well as help ensure the benefits of all parties involved.
The capital city has developed 80 safe food supply chains, of which 36 are of animal origin and 44 are of plant origin, according to the Ha Noi Department of Agriculture and Rural Development.
Ha Noi is also implementing a pilot programme granting safe-food certificates for 11 production units in the vegetable and meat supply chains, and for 23 food shops.
Ha Noi has over 10 million residents with rising demand for agricultural products. However, the city's production output meets only 60 per cent of its needs, while many products are dependent on neighbouring localities.
According to estimates, Ha Noi's rice output provides just 35 per cent of the city's demand. This number for beef production is 15 per cent, seafood 5 per cent, and processed food 20 per cent.
The area for growing vegetables in the city is currently estimated at over 10,000 hectares, satisfying 66 per cent of consumption demand. For the rest, the city must rely on supply from neighbouring provinces such as Hung Yen, Ha Nam, Bac Ninh and Vinh Phuc.
Twenty-one localities provide safe food for Ha Noi, creating a production and supply chain of agro-forestry-fishery products for the city.
In the first six months of this year, Dien Bien Province provided about 50 tonnes of agro-forestry-fishery products for Ha Noi, while Vinh Phuc supplied 2,500 tonnes of vegetables, three million eggs, 60 tonnes of chicken meat, 500 tonnes of pork and 100 tonnes of fish.
According to the Ha Noi Department of Agriculture and Rural Development, supply chains between Ha Noi and other provinces remain limited. One of the reasons is that some localities have yet to develop annual co-operation plans for each sector.
On the other hand, many provinces do not have specialised agencies or departments in agricultural trade promotion to maintain regular co-operation between enterprises.
At the same time, current policies to attract Ha Noi's enterprises to invest in processing agricultural products have not been fully developed. Some products sold at chain stores do not have brand names or identification information. The amount of farm produce supplied to Ha Noi through co-ordination remains modest.
Therefore in order to diversify the agricultural products supplied to the capital city, the authority needs to step up coordination with provinces in food quality management and food safety, checking sample quality of their products for traceability.
In particular, Ha Noi should build a mechanism to create favourable conditions for businesses to invest in processing, linking and selling products to farmers, building high-tech agricultural models. 
Schools and firms come together     
The General Department of Vocational Training has signed memorandums of understanding (MoUs) with industry groups and an Australian-Vietnamese human resource development programme to increase the involvement of logistic firms in educating workforces.
The partnerships with the Viet Nam Logistics Association (VLA), Viet Nam Chamber of Commerce and Industry (VCCI) and Aus4Skills are a part of the Ministry of Labour, Invalids and Social Affairs' plan to link educational facilities and businesses in logistics.
Truong Anh Dung, deputy head of the department, said: "Increasing the involvement of businesses in vocational training is an effective method to improve the quality of the workforce."
The programme would serve as a trial for an industry-led vocational training model, which would be taken to other industries in future, he said.
Michael Sadlon, programme director of Aus4Skills, said he is happy that the logistics industry has been chosen to pilot the industry-led model since it is "a foundation for almost every sector … and critical to Viet Nam maintaining its competitiveness and economic momentum."
The model connects those with workers with others who have a need for them, and would enable industries to help schools and colleges train the workers they need, he said.
Le Duy Hiep, chairman of the VLA, said the MoU is a big step in connecting the VLA's members and vocational schools to create a strong and reliable training system.
Vo Tan Thanh, deputy chairman of the VCCI, said the logistics sector offers students great employment opportunities.
Vocational schools and colleges in HCM City and Dong Nai Province also signed MoUs with local logistics companies which promise internships, future job opportunities and training for their students.
Lam Van Quan, principal of the HCM City College of Economics, said his institution hopes to ensure that fresh graduates can satisfy employers' demand without much further retraining.
Vo Hoang Giang, general director of Saigon Port Corp, said these partnerships would save businesses costs and meet their demand for skilled workers.
Hoang Thai Son of the Department of Formal Training said vocational schools and colleges are not able to completely satisfy the demand for highly skilled logistics workers, with many graduates lacking both hard and soft skills like English, IT, and team work, due to their lack of training facilities and skilled trainers.
He said the department is pushing for favourable policies and seeks to spread awareness of the importance and attractiveness of logistics jobs as well as build a practical curriculum to meet logistic firms' needs. 
Hue targets $56mil in investment this year     
The central province of Thua Thien-Hue is targeting total investment of VND13 trillion (US$56 million) from enterprises this year, an increase of 20 per cent over last year's figure.
Phan Ngoc Tho, chairman of the provincial People's Committee, said the province was offering businesses incentive policies, including land lease tax cuts and quicker administrative procedure.
During a meeting between local authorities and businesses operating in the province held on Monday afternoon, many businesses pointed out the difficulties they face complying with policies as well as administrative hurdles that were making them reluctant to invest in the province.
A businesswoman from Ha Noi who is investing in a private hospital in Hue City complained that she had encountered problems with the local tax department which wanted her to file petitions every single year to be eligible for land lease tax breaks.
Local authorities had agreed to lease her land with a tax break over 50 years, she said.
Hospitality businesses, including those running the Pilgrimage Village Boutique Resort and Spa and Imperial Hotel, said the number of inspection teams visiting each year was having a negative impact on their operations.
A Pilgrimage representative said it had been inspected 27 times last year, while the Imperial Hotel said it was visited six times by inspectors last month.
Chairman Tho pledged to double check why regulations were not being followed by inspection teams. He said the province would work harder to ensure transparency in administration and equal policies for all businesses.
The province expected to have 6,800 businesses operating in the locality this year, so the committee was open for dialogue to deal with any hurdles businesses encountered, he said.
Thua Thien-Hue has a low annual economic growth rate. The Chan May-Lang Co EZ was opened there in 2006, but remains half empty. 
New entrant perks up competition in Vietnam's ride-sharing market
Go-Viet's attractive perks for drivers are motivating many to shift from Grab, and the market leader is responding.
He's one of the first drivers to sign up with ride-sharing service Go-Viet, but Thanh Hung is still wearing the well-recognized green GrabBike uniform.
"Too many drivers have just signed up for Go-Viet so there are not enough jackets," Hung said.
The 40-year-old motorbike driver said he was able to make VND800,000 (US$34) in a day and a half since he began driving for Go-Viet, much higher than the VND500,000 (US$21) he would get from GrabBike for the same work duration.
Hung said he is also attracted by the tax exemption Go-Viet promises for the first six months and the bonus he'll get if he finishes nine trips a day.
Go-Viet, a Vietnamese version of Indonesian service Go-Jek, entered the Vietnamese market early this month, seeking its slice of the market pie that Grab has been dominating after the departure of Uber.
Aiming to tailor its service to Vietnam with a different name and local teams, one of the first goals of Go-Jek in the country is to recruit drivers.
"The company hopes to bring a stable income to tens of thousands of drivers through technology," Nguyen Vu Duc, CEO of Go-Viet told local media in June.
The company had contacted potential drivers months before the launch, either by meeting face to face or talking to them online, its communication representative Huong Cung told VnExpress.
Grab did not comment on the ploys Go-Viet is using to attract drivers, but it's also deploying its own strategies.
The company has just launched a campaign to reward drivers with 5% of the total revenue they make in a week, said Nguyen Thu An, communication director of Grab Vietnam.
In early June, Grab also announced a plan to have over 100 stops for Grab drivers with free wifi, coffee and even vehicle washing service in Ho Chi Minh City and Hanoi.
"There is a large number of drivers who don't like Grab and want to work for Go-Viet," said Vu Hoang Tam, a mobile app expert and one of the founding members of GrabBike in Vietnam.
This creates a good supply of drivers for Go-Viet, which has learned a lot from the "previous battle," Tam said, referring to the competition between Grab and Uber earlier this year.
Son La ships 40 tons of longans to China
Song Ma district in northern Son La province has exported 40 tons of longans to China according to a legal channel, according to the provincial Department of Industry and Trade.
This is the first batch of longans to have been officially shipped to China by Canh dong vang (Golden Farm) Ltd Company and Thanh Tung-Son La Ltd Company.
The longans were grown by Tien Cang Cooperative in Chieng Cang commune, Song Ma district. After several years applying advanced technologies to cultivate longans according to VietGap standards, Song Ma longans now meet the strict requirements of the export market.
Previously, Song Ma longans had mainly been shipped to China via illegal channels.
Song Ma longan brand was recognized by the National Office of Intellectual Property in August 2017 and was granted a plantation zone code by the Plant Protection Department.
This year's Song Ma longan output is estimated at 40,000 tons. Son La province has actively implemented trade promotion measures to help local people receive higher market prices for their longans. In addition to domestic trade promotion activities, it has organized events to increase exports by promoting their longans within China.
SCG launches food packaging products catering to growing food industry
SCG unveils new innovative packaging products at VietFood, Beverage and Professional Packing Machines 2018, introducing flexible packaging and fest (food safety packaging) as new solutions for customers created under the concept of passion for better.
The solutions offer new functions, with new and improved designs which ensure more durability, convenience, and efficiency at keeping food fresh. SCG said its business has been growing at a fast pace due to the growth of the food industry, which has been expanding at a consistent 5 per cent per year throughout Asia.
Karan Tejasen, managing director of TC Flexible Packaging Co., Ltd., Packaging Business in SCG, said, "SCG strives towards becoming a total packaging solutions provider who caters to the needs of customers and consumers with total packaging product and service solutions in a sustainable way. The firm has continued to develop new packaging solutions to serve the needs of different groups of customers, especially customers in the food industry."
"In addition, with varied packaging needs and types of packaging that cater to the changing lifestyles of customers, SCG has continued to improve our packaging solutions for the food industry, focusing on enhancing convenience, using high-quality and food direct contact raw materials, and adding design innovation to make our packaging easy to use, durable, and outstanding. The company's consultation services help customers develop the right packaging, from what materials to select and designs that are appropriate for the products to the customers' packaging systems. SCG is a thought partner to our customers, whatever their needs are," Karan stated.
"SCG offers a complete range of packaging solutions for the food industry, such as flexible packaging made from plastic-based materials. The market for such packaging in Asia has grown by 5 per cent in line with population and economic growth. SCG has invested in expanding our production bases in Thailand and ASEAN countries, especially in Vietnam that has high growth potential, alongside developing new technology and innovation to create packaging solutions that serve functional as well as design needs," he added.
According to Karan, SCG has created new packaging products that add value for users, such as flexible packaging for fruit and vegetable, using shelf-life extension techniques to retain freshness, reducing food waste, as well as minimising losses for distribution channels. Besides, SCG comes up with new solutions that improve product and service offerings, such as flexible packaging with various barrier techniques and tightly reclosable functions as well as retort pouches that efficiently substitute metal cans.
In this exhibition, SCG also presents packaging solutions for food processing businesses and general consumers under the brand Fest. Fest is a child of SCG's care for the health and safety of consumers. SCG developed food packaging that are clean, safe, and can get in direct contact with food. The solution is one of the products that come from our passion to make consumer's lives better. As for now, people's lifestyles have changed from cooking to takeaway food or ordering food, so they have a chance to use more food packaging products and the food delivery business is growing strongly as well.
Currently, Fest has two types of food safety packaging, The Fest paper packaging made from food direct contact paper is formed from a single sheet of paper to prevent oil and water leakage. Customers can also choose to print patterns on the packaging to add more value and create their own unique food packaging.
The Fest natural fibre packaging is moulded from 100 per cent virgin natural pulp, comes in various shapes and designs to offer several types of food, both Thai and International set menus that have various food items such as rice, soup, and salad. The Fest natural fibre packaging is microwavable so that consumers can heat up and have food that tastes fresh as if it has just been cooked. The natural fibre packaging is also 100 per cent degradable.
Moreover, SCG also presents secondary packaging that has outstanding designs to create a unique factor for your brand. SCG offers a one-stop service and packaging solution for more convenience.
Thanks to capable staff and their dedication to finding solutions for customers while coming out with new services, as well as continued investments, SCG is ready to create more value for customers in several other industries through its packaging solutions, allowing customers and consumers to have access to high-quality products and services that serve their needs in a sustainable way.
Discover the new and exciting packaging experiences and innovations by SCG, as well as activities at SCG's booth at VietFood, Beverage and Professional Packaging Machines 2018, at Saigon Exhibition and Convention Centre, 799 Nguyen Van Linh Street, District 7, Ho Chi Minh City, on August 8-11, 2018.
SCG, one of the leading conglomerates in the ASEAN, comprises of three core businesses, including SCG cement-building materials, SCG chemicals, and SCG packaging. With more than 200 companies under its umbrella and approximately 57,000 employees, SCG creates and distributes innovative products and services that respond to the current and future needs of consumers.
SCG began operations in Vietnam in 1992 with trading and gradually expanded investment into diversified businesses in the cement-building materials, chemicals, and packaging industries.
To date, with a total of 20 companies across Vietnam driven by approximately 8,300 employees, SCG offers a variety of premium products and services. Available products in cement-building materials under the SCG brand and wall and floor ceramic tiles under the COTTO & Prime brand, as well as sanitary ware and fittings and bathroom fixtures under the COTTO brand.
In the packaging business, available products are reading and writing paper under the IDEA brand and corrugated containers, kraft paper, and flexible packaging. In the chemicals business, available products are downstream chemicals products such as PE&PP, XLPE, PVC resin, and compound, among others. Besides, SCG also has a building materials showroom in Hanoi to welcome customers to experience SCG products and services.
450 foreign and local firms set up booths at Vietnam Foodexpo 2018
Vietnam Foodexpo 2018, which will be organised on November 14-17 in Ho Chi Minh City, will welcome more than 450 foreign and local firms as well as thousands of experts and customers.
450 foreign and local firms set up booths at vietnam foodexpo 2018
This year, Vietnam Foodexpo 2018, covering an area of 13,000 square metres, will host more than 600 booths, displaying agricultural products, sea food, beverages, food materials, processed food, and food processing machines, among others.
The exhibition will welcome back numerous firms who have been returning exhibitors for three consecutive Vietnam Foodexpo events since it was first organised in 2015, including Quang Ngai Sugar JSC, Sa Giang Import-Export Corporation, and An Giang Fruit-Vegetables & Foodstuff JSC, among others.
According to Vu Ba Phu, director of the Ministry of Industry and Trade (MoIT)'s Trade Promotion Agency, the organising board of Vietnam Foodexpo is collaborating with ministries and relevant authorities to support local and foreign firms in connecting with each other, increasing these firms' competitive capacity in both the local and foreign markets.
Nguyen Phuong Linh, director of Bonie Bee Co., Ltd., stated: "Thanks to joining the annual Vietnam Foodexpo events, Bonie Bee's honey became popular in both local and foreign markets. The firms' products are now present in famous supermarkets across South Korea and Japan, thanks to the successful transactions in previous exhibitions."
According to Vu Dung Thanh, marketing director of Moocos Vietnam Co., Ltd., joining the Vietnam Foodexpo is a great opportunity to introduce Moocos's products processed from Gac fruit, including Gac fruit oil, frozen Gac puree, and Gac powder, to leading local and foreign distributors.
Last year, Vietnam Foodexpo 2017 lured in 24,000 visitors, including 3,000 foreigners coming from 50 countries and territories across the globe. Besides, more than 3,000 contracts and cooperation agreements were signed at the exhibition.
Vietnam sees increase in overseas investment in first seven months
In the first seven months of the year Vietnam saw an increase in overseas investment, creating high expectations for the remainder of the year.  
According to statistics published by the Ministry of Planning and Investment, in the first seven months of 2018, Vietnamese firms invested $279.63 million in newly-registered projects, while also adding projects in overseas markets. Notably, 81 newly-registered projects were granted investment registration certificates with a total investment capital of $238.33 million.
Further, $41.3 million in added capital was poured into existing projects overseas. The financial and banking sector rose to become the sector luring the largest investment capital from Vietnamese firms with total newly-registered and added capital of $105.77 million, equaling 37.8 per cent of the total overseas investment inflow.
After finance, the agriculture, forestry and fisheries sector gained $45.47 million in capital, equaling 16.3 per cent in comparison with Vietnamese firms' total investment capital in overseas markets.
Vietnamese firms are present in 32 countries and territories. Laos ranked first in attracting investment capital inflow with total investment capital of $84 million, accounting for 30 per cent of the total, followed by Australia with 13.3 per cent and Slovakia with 12.9 per cent.
The consecutive growth of local firms is the major factor creating the increase in overseas investment inflow.
BIDV, VietinBank and Vietcombank are currently the most popular brands in the banking sectors, meanwhile, in the fields of telecommunications, agriculture and technology, Viettel, TH, Hoang Anh Gia Lai and FPT are leading the way.
Most recently, FPT made a strategic investment in the US' Intellinet to expand its digital transformation leadership, aiming to provide more strategic and comprehensive services to leading global companies.
Under this agreement, Intellinet will continue to operate as an independent organisation. However, the two sides will be able to leverage each other's strengths. With this new partnership, Intellinet enhances FPT's offerings with its strategy and management consulting capabilities and becomes part of a company with deep offshore capacity and a focus on digital transformation.
FPT, by partnering with the world's technology disruptors like Amazon Web Services, Microsoft, Siemens, and GE, has been continuously enhancing its technology as well as domain expertise to help provide more value-added services to clients across the globe. The company has been providing technology services for nearly 200 customers in the US from various business domains, including aerospace and aviation, healthcare, banking and finance, telecommunications, retail, and automotive.
An Phat to revive notorious Viet Hoa-Kenmark IZ
An Phat High-Tech Industrial Park Company Limited's takeover of the notorious Viet Hoa-Kenmark Industrial Zone (IZ) may revive the project to make An Phat a supplier of Samsung.  
After winning at the auction organised by Bank for Investment and Development of Vietnam (BIDV) in March, An Phat became the new owner of Viet Hoa-Kenmark IZ and renamed the IZ to An Phat Complex Hi-Tech IZ.
Previously, in March 2018, BIDV, the largest creditor of Viet Hoa-Kenmark IZ, organised an auction to put the notorious IZ on sale. An Phat won the bidding after paying VND756.45 billion ($33.47 million), equalling the starting price of the auction. However, the selling price is still lower than the VND800 billion ($35.39 million) that BIDV expected to acquire from the deal.
While BIDV is happy to have gotten rid of the liability, An Phat expects that revive the IZ and make it its new base, serving its target to establish itself in the local plastics industry.
According to the development plan submitted to the Hai Duong People's Committee, An Phat will focus on manufacturing hi-tech and environment-friendly plastic products to serve the automobile, mobile phone, self-degradable plastic, construction materials manufacturing sectors, among others. Besides, An Phat will conduct R&D activities and other activities related to the plastics industry in the IZ.
At first, An Phat will accelerate the renovation of the existing workshops in order to take them into operation and then will continue renovating the remaining infrastructure.
Despite An Phat being a newly-established firm (it was established in October 2017), with its financial potential thanks to the backing of An Phat Plastic and Green Environment Joint Stock Company, it is well within An Phat's reach to implement its plans.
This year, An Phat's parent company set the target to acquire VND6.36 trillion ($281.4 million) in revenue and VND332 billion ($14.69 million) in net-profit, signifying increases of 56 and 25 per cent.
Regarding its long-term development plan with a vision to 2025, An Phat Plastic will join deeper into the value chain of the plastics industry, expand its business sectors, and reach approximately $1 billion in revenue, up 3.8 per cent compared to the figure of 2018.
According to the information published on An Phat Plastic's website, in the second quarter of this year, An Phat Plastic poured an additional VND659 billion ($29.1 million) into An Phat to increase the An Phat Plastic's total capital in the firm to VND876 billion ($38.76 million), equalling 96.15 per cent of its charter capital.
Viet Hoa-Kenmark IZ was licensed in 2005. At the time, the developer Kenmark Group from Taiwan promised to inject $500 million to turn the empty land into a mammoth IZ and an urban township.
During the first phase, Kenmark was set to disburse about $98 million and, in fact, spent $44 million to build internal roads, workshops, as well as a wastewater treatment facility and an electricity generation system.
However, in 2010, the developer abruptly returned home, suspending the project without further notice.
The problem is that previously Kenmark borrowed $67.6 million from three banks ($39.1 million from BIDV, $18.5 million from SHB, and $10 million from Habubank). Subsequently, Habubank was merged with SHB, who inherited Habubank's loans.
When Kenmark left, it suspended payments on its $67.6 million debt to the Vietnamese banks, causing a major headache.
BIDV also put the IZ on sale numerous times to recover the loans but failed.