Asia – emerging market for Vietnamese shrimp exports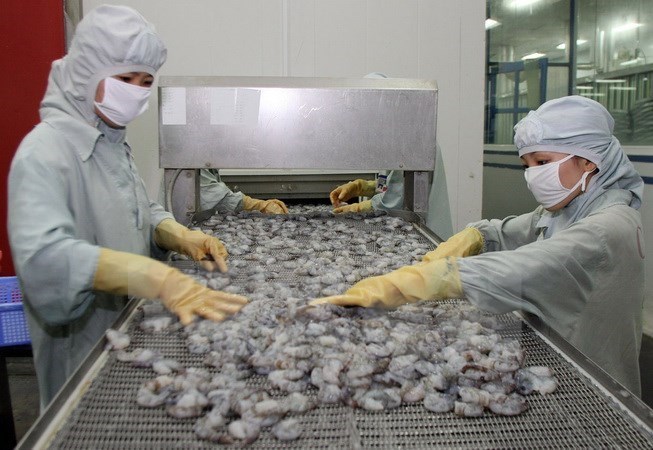 The Vietnam Association of Seafood Exporters and Producers (VASEP) held a seminar on world shrimp demand and Vietnam's supply capacity in Ho Chi Minh City on August 29.
At the function, Carson Blake Roper, an expert on the EU market, cited a UN report on global urbanisation prospects as saying most of the world's densely populated countries will be in Asia, which is expected to see a rapid expansion of the middle class and free trade agreements.
The region will also have higher demand for high-protein food, including shrimp and fish, he added.
Le Van Quang, head of Minh Phu Group boards of directors, forecast shrimp consumption in Asia to surge, particularly in China, despite its shrimp productivity having shrunk.
According to VASEP statistics, in the first seven months of this year, Vietnamese shrimp exports to China, Japan and the Republic of Korea respectively increased 40, 35.2 and 27.4 percent from the same period last year.
Experts said Vietnamese exporters need specific strategies for each market.
Roper advised these firms to build supply chains and refrigeration systems in Asian target markets, adding that improved infrastructure will help boost their competitiveness.-VNA
LG supplier denied import tax refund
On August 18, the Ministry of Finance (MoF) issued Official Dispatch No.11080/BTC-TCHQ to answer a motion by Serveone Vietnam Co., Ltd. (SOVN) on the import tax reimbursement process for the materials the company imports for LG Electronics Vietnam's (LGE) production of export products.
Article 9(1d) of Law on Export and Import Duties No.107/2016/QH13 states that, "Taxpayers shall have their tax payments reimbursed" after "goods serving as raw materials or supplies imported for the production of export goods for which import tax has been paid."
Article 36(3) of Government Decree No.134/2016/ND-CP on guidelines on the Law on Export and Import Duties states that the criteria for eligibility for the tax refund are the following:
The manufacturer of exported goods has a factory where the goods in question are manufactured in Vietnam. Additionally, the manufacturer owns or has the right to use machinery and equipment at a factory suitable for the raw materials, supplies, and component products imported for manufacturing;
The value or quantity of imported raw materials, supplies, and components after which import duties are refunded is the actual value or quantity of raw materials, supplies, and components used for the manufacturing of the exported products; The exported products are declared as domestic exports; The manufacturer directly imports goods and exports the products or authorises another entity to do so.
MoF concluded that SOVN does not meet any of the outlined criteria and is therefore not eligible for reimbursement.
SOVN is a 100 per cent South Korean-invested company, a subsidiary of Serveone Co., Ltd. (a member of LG Corporation), which was formed as a satellite company to support LG's production in the northern port city of Haiphong. SOVN acts as the procurement agency for LGE, importing materials and selling only to LGE at a price that does not include import tax.
Based on this, SOVN saw no difference between its business with LGE and a normal export producer eligible for import tax reimbursement, as stated in Article 19 of the Law on Export and Import Duties. On July 18, SOVN sent Official Dispatch No.18072017/SOVN to the Government Office to request the PM's consideration and inquire about the reimbursement process, which was later relayed to MoF.
In the dispatch, SOVN cited MoF's Official Dispatch No.16224/BTC-TCHQ dated November 7, 2014 addressing New Viet Dairy JSC, a supplier of Vinamilk. New Viet Dairy is also a company that imports goods to then sell them to Vinamilk for export production at prices that do not include import tax. In this case, MoF concluded that New Viet Dairy was eligible for the tax reimbursement and instructed the company to finish submitting the tax refund documents.
In 2015, LG Electronics opened an 800,000-square-metre manufacturing complex in Haiphong, with a total investment sum of $1.5 billion to be disbursed between 2015 and 2028. This complex has helped Vietnam to become one of the largest electronics export hubs in the world, with 70 per cent of the complex's products exported to 35 countries worldwide in the next five years.
However, the partnership with LGE is not all smooth sailing, as earlier this year, the General Department of Vietnam Customs has requested LGE to pay tax arrears and an additional fine of VND8.1 billion ($356,341) in total.
Legion of unexpected bad debts sends Vinawaco reeling
Vietnam Waterway Construction Corporation (Vinawaco) is currently in hot water due to continuous revelations of enormous losses and debts from before its equitisation.
Vinawaco has just sent two urgent dispatches to the Ministry of Transport (MoT) and the Hoan Kiem District (Hanoi) Division of Civil Judgement Enforcement requesting to speed up the valuation of state capital at the moment of its equitisation (May 30, 2014) and delay the forced debt collection for two judgements pronounced by the Haiphong People's Court in 2016 and the Ho Chi Minh City Peoples's Court in 2004.
"These two requests are actually linked together, since only when MoT determines the amount of state capital at the time of equitisation will we have a basis to pay the company's liabilities in accordance with the law," said Ngo Van Tuan, chairman of the board of Vinawaco.
In particular, regarding the VND560 million ($24,634) debt to Minh Duong Company, according to the judgement of the Haiphong People's Court in 2016 (Case No.18/KDTM-PT), Tuan said Vinawaco is prepared to pay the amount to a temporary holding account appointed by the court, but asked to wait until the company completes the second valuation of state capital and finishes the handover from state-owned enterprise to joint stock company.
Meanwhile, regarding the VND7 billion ($307,930) debt pronounced by the Ho Cho Minh City People's Court in 2004 (Case No.284/CNTT-TT), Vinawaco argued that the company is not accountable to pay since this debt was never mentioned when MoT approved the company's value for equitisation. Furthermore, this debt belonged to No.2 Waterway Dredging Company, a special accounting unit with its own legal status in which Vinawaco is only a shareholder with 20 per cent of the chartered capital.
According to Vinawaco's leader, the constant revelation of debts and losses from the previous management period is becoming a nightmare. Most recently, a 22-year-old debt of VND53 billion ($2.3 million) from Vietcombank was unearthed in September 2016, after Vinawaco received information on bad debts at Vietcombank amounting to VND12.6 trillion ($554.2 million).
"The revelation that Vinawaco has bad debts at Vietcombank damaged the company's reputation and business plan, especially in accessing credit and applying for performance and payment guarantees," Tuan said.
Vinawaco explained that according to documents provided by Vietcombank, this debt is the arrears from when the corporation received handover for three cargo ships in 1995.
However, Vinawaco also affirmed that the company performed debt reduction accounting in 2005 and has not received any debt reconciliation records from its Ho Chi Minh City branch, thus there is no payable to Vietcombank in Vinawaco's business valuation records for equitisation published by MoT.
Aside from the sudden revelation of the debt to Vietcombank, in just three years since equtisation, Vinawaco has discovered at least 14 losses and debts totalling at VND137 billion ($6 million).
Most of these debts and losses were confirmed by independent accounting firm BDO Audit Services Co., Ltd. for the period between receiving the first business license and business valuation (July 1, 2013 to May 29, 2014).
The most notable of these debts and losses are payable to six clients, including VND66 billion ($2.9 million) in bad debts to banks and unfinished costs totalling at VND38.2 billion ($1.7 million) from 25 construction works prior to 2013 that do not correspond with revenues, which are irrecoverable and were rejected by the tax departments of Hanoi and Haiphong.
"All of these liabilities were either missing in the business valuation record for equitisation or were listed at lower value than the actual payables. Since the state holds 30 per cent of Vinawaco's charter capital, or VND109.8 billion ($4.8 million), the state capital will actually be negative VND30.3 billion ($1.3 million) after these debts are processed," Tuan said.
It is worth mentioning that since 2016, Vinawaco has more than once requested MoT to promptly revaluate state capital in the company at the time of equitisation, but so far, three years after equitisation, the revaluation has yet to be completed.
Previously, in November 2016, in the instructions on handling the differences between the statistics of independent auditors and tax agencies, the Ministry of Finance has requested MoT to quickly determine the causes and responsible parties for these unusual differences.
Vinawaco's leader said that the company is in hot water as the Hoan Kiem District Division of Civil Judgement Enforcement has frozen its assets as well as requested Thanh Hoa Bypass BOT to cease payment for Vinawaco's construction work in the project for foreclosure.
"Our strategic partners, Infrastructure Development and Construction Co., Ltd. (currently holding 30 per cent of the chartered capital), and other big shareholders (holding 30 per cent of the chartered capital in total) wish MoT would promptly finish dealing with these financial problems before handing the right to represent ownership of state capital to State Capital Investment Corporation," Tuan said.
Vung Ang attracts investments after Formosa incident
Businesses have successfully resumed operations in the Vung Ang Economic Zone in Ha Tinh Province after the Formosa pollution incident last year.
Vung Ang Economic Zone was established in 2007 as Vietnam's steel and thermal power centre. It also had a deep water port. It attracted 118 out of 182 investment projects to the province's economic and industrial zones including 69 domestic projects valued at VND48.3trn (USD2.1bn) and 49 foreign projects worth USD11.6bn.
Some of the most notable projects are USD1.6bn Vung Ang 1 Thermal Power Plant and USD10.8bn Son Duong Port and Integrated Steel Mill Complex. These projects were intended to play an important role in the economic development and help ensure the country's steel and energy security. It has also contributed hugely to the provincial budget. In 2010, it contributed VND719bn (USD31.6m) and VND7.5trn five years later.
However, after the Formosa pollution incident in June 2016 that killed tonnes of fish in the four central provinces, it has been difficult to attract investment and the development process of various projects slowed down.
The authorities of Ha Tinh Province have issued orders to resume key projects and held dialogue with potential domestic investors while inviting foreign investors to Vung Ang. Ha Tinh's authorities have also tried to provide skilled employees for businesses.
In the first six months, Vung Ang Economic Zone management consulted 1,900 people about job opportunities, an increase of 18.75% compared to last year, and introduced 891 people to various projects, an increase of 64.08% on last year.
Since early 2017, many projects resumed and five new projects with an investment of over VND1.6trn (USD70.4m) were given investment permits.
Hundreds of people returned to their jobs as Human City Company continues the VND1.5trn five-star hotel and office building project. Several investors from Germany, South Korea, Japan and the US have visited and have researched harbour investment projects.
Coal development plan announced
Prime Minister Nguyễn Xuân Phúc recently approved the adjustment and supplementation of the Việt Nam coal industry development plan until 2020, with a vision towards 2030.
Accordingly, the coal sector will invest in constructing new coal sorting factories by 2020, namely Vàng Danh 2, Khe Than, Khe Chàm and Lép Mỹ, with annual capacity of two million tonnes, 2.5 million tonnes, seven million tonnes and four million tonnes, respectively.
In addition, a centralised coal processing and warehouse centre will be built in the Hòn Gai region with capacity of some five million tonnes per year. The first module with annual capacity of 2.5 million tonnes in Hà Khánh Commune will be built and operation of the Nam Cầu Trắng coal sorting factory will be maintained until the end of 2018. The factory will then be moved to the location of the centralised coal processing and warehouse centre to be installed as the second module with capacity of 2.5 million tonnes per year.
The categories of some small-scale projects in the mines of Vàng Danh, Năm Mẫu, Suối Lai and Cọc Sáu, as well as Đèo Nai, Lộ Trí and Mông Dưong, will also be amended, alongside the categories of a number of infrastructure investment projects that serve coal industry development.
Earlier, under Decision No 403/QĐ-TTg, dated March 14, 2016, the PM ratified the adjustment of the development plan of Việt Nam's coal industry until 2020 with a vision towards 2030, with the view to building the coal sector into a developed industry with high competitiveness and advanced technological standards in comparison with regional countries with regard to the steps of coal exploration, mining, sort out, processing and use, sufficiently satisfying domestic coal demand, especially for power generation.
A report from the Việt Nam National Coal and Mineral Industries Group (Vinacomin) revealed that in the first half of this year, coal output was estimated at some 20.6 million tonnes while coal inventory was 9.3 million tonnes.
The inventory is expected to be higher as the PM required Vinacomin to produce additional two million tonnes to contribute to the country's GDP growth rate this year.
Trúc Lâm Zen Quảng Nam tourism project needs new investors
Quảng Nam Province authorities have called for new investors for the Trúc Lâm Zen Quảng Nam tourism project in Phú Ninh District after the initial investor – Ba Vàng Liability Limited Company – withdrew from the project due to financial difficulties.
Vice chairman of the provincial People's Committee Lê Văn Thanh said the project owner, which broke ground in the second quarter of 2016, could not allocate funds to continue the project, and they faced difficulties in planning, land clearance, land-use rights, environment protection, and infrastructure investment.
Thanh said the project, which covers 200ha with total registered investment of VNĐ1 trillion (US$44.2 million), was scheduled to finish its first stage in the first quarter of 2017, but the investor failed to complete the progress.
The vice chairman said the project was included in the provincial master plan as a combined eco-tourism centre in the province and central Việt Nam.
Thus far, Quảng Nam has attracted 135 foreign direct investment projects with registered capital of nearly $5.5 billion.
German bank considers loans for projects in HCM City
Chairman of the Ho Chi Minh City People's Committee Nguyen Thanh Phong has expressed his wish to continue receiving support from the KfW Development Bank of Germany in KfW-funded projects in the city. 
During a working session in Ho Chi Minh City on August 29 with KfW Country Director Christian Haas, Phong said the city agrees with KfW's proposal regarding an additional loan worth 200 million EUR for key routes of metro line No.2 and pledges to work closely with the Finance Ministry and KfW on the loan. 
About a project on non-refundable aid for the metro line No.2 provided by the European Commission (EC), the municipal railway management board proposed a sum worth 6 million EUR. The EC will decide on the proposal soon. 
Haas said KfW will also provide a 200 million EUR loan for a policy support project in Vietnam, which will be disbursed in 2017 and 2018, adding that the lender offers different incentives to such loan packages, which have been submitted to the Finance Ministry and the municipal Finance Department. 
According to the municipal railway management board, the Prime Minister on August 28 signed a decision to extend the duration for the construction of the metro line No.2 until late 2020. 
Regarding adjustments to the key routes of the metro line No.2, the municipal authorities sent documents to concerned departments and agencies and will report to the PM, it added.
RoK group invests in renewable energy power in Quang Binh
Dohwa Engineering Company Limited from the Republic of Korea (RoK) has began construction of a renewable energy power complex in Le Thuy district of the central coastal province of Quang Binh.
The 55-million-USD project includes sub-projects of generating 550MW of solar power, 100MW of biomass power and building resort areas and water parks.
In the first phase, the Korean group will construct a solar power plant with a capacity of 49.5MW.
The project is expected to be put into operation at the end of 2018.
678.4 million USD registered for solar power projects in Tay Ninh
The People's Committee of southwestern Tay Ninh province has proposed the Ministry of Industry and Trade add 15 solar power projects to the provincial planning scheme on electricity development from 2011-2015, with a vision through 2020.
According to the committee, since June 2017, enterprises have asked for the province's permissions to build 15 solar power plants, worth a total of 15.4 trillion VND (678.4 million USD). The projects have a designed combined capacity of 554 MW and will be implemented from 2017-2019.
The Mien Trung Energy Joint Stock Company wants to invest over 1.3 trillion VND (57.2 million USD) in a 50 MW solar power plant on 60 hectares around Dau Tieng lake in Tan Chau district, while the Bien Hoa-Thanh Long One-Member Co. Ltd. plans to build a 30 MW solar power plant, worth 736 billion VND (32.38 million USD) on 37 hectares in Thanh Long commune, Chau Thanh district.
The TTC Green Energy Company registered to use over 110 hectares in An Hoa commune, Trang Bang district, to build two solar power plants, with a combined capacity of 94 MW, worth over 2.43 trillion VND (106.92 million USD).
The Asia Polytechnic Company also wants to use 120 hectares in Dau Tieng lake to build two solar power plants with a combined capacity of 60 MW, worth over 1.5 trillion VND (66 million USD).
Nguyen Thanh Ngoc, Vice Chairman of the provincial People's Committee, said Tay Ninh has huge potentials for solar power development, with the solar radiation reaching 5.1kWh/square metre per day, and the average sunshine duration of 2,400 hours per year. 
The projects in extremely disadvantaged areas of Suoi Ngo commune in Tan Chau district, and Thanh Long commune in Chau Thanh district are eligible to enjoy investment incentives.
Vietnam Airlines, Vietnam Post sign cooperation deal
The Vietnam Airlines Corporation (Vietnam Airlines) and the Vietnam Post Corporation (Vietnam Post) on August 29 inked a cooperation pact to enhance their operation efficiency and mutual support for further development.
Under the terms of the agreement, Vietnam Post will expand ticket agents of Vietnam Airlines at its transaction points and provide financial postal and deliver services for Vietnam Airlines.
Meanwhile, Vietnam Airlines will serve as a provider of flight tickets and postal deliver services for Vietnam Post. Vietnam Airlines will help Vietnam Post introduce insurance services to its staff. The two sides will also coordinate to promote communications, brands and products on their channels and publications.  
A contract on transporting goods by air was signed at the event, marking the first step to realise the freshly-inked agreement. 
Deputy Minister of Information and Communications Nguyen Minh Hong highly appreciated the cooperation between Vietnam Airlines and Vietnam Post, hoping that the agreement will benefit both sides, contributing to the development of the two companies and the country as a whole. 
Meanwhile, Chairman of the Board of Directors of Vietnam Airlines Pham Ngoc Minh said the deal is hoped to create mutual strengths of major businesses in Vietnam, thus enhancing economic effectiveness of state-run enterprises.
Deputy PM hails EuroCham's policy recommendations
Deputy Prime Minister Vuong Dinh Hue said that policy recommendations in the EuroCham's White Book, especially those pertaining to improving competitiveness and legal frameworks, have important value.
The Vietnamese Government is determined to reform comprehensively the business environment and raise the national competitive edge, Hue stressed at his reception for Chairman of the European Chamber of Commerce in Vietnam (EuroCham) Jens Ruebbert in Hanoi on August 29.
He spoke highly of EuroCham's efforts in boosting the economic cooperation between Vietnam and the European Union (EU), as well as in publishing the White Book 2017 and its enthusiastic involvement in dialogues and policy-making consultancy with the Vietnamese Government.
He showed his delight that the EuroCham's members are upbeat and have belief in the business and investment environment in Vietnam, suggesting the agency to listen carefully to its members' voice and promptly convey them to the Vietnamese Government for proper responsive adjustments. 
EuroCham Chairman Jens Ruebbert said apart from publishing the White Book 2017, European businesses are interested in green and sustainable growth and continue building and publishing the Green Book in the coming time.
EuroCham opinioned that the EU and Vietnam should soon finalize the signing work for the EU-Vietnam Free Trade Agreement (EVFTA) to be enforced and it will spare no effort to urge the EU to ratify the agreement "as soon as possible" for the interests of businesses and people, he said.
At their meeting, host and guest discussed matters relating to Vietnam's animal quarantine, regulations and standards on milk and milky production to be imported into Europe, import and export of pharmaceuticals, and tax levies on alcohols and wines, and more.
HCM City's CPI rises 0.5 percent in August
The consumer price index (CPI) in the southern largest economic hub of Ho Chi Minh City in August rose 0.5 percent from the previous month and 3.63 percent over the same period last year, reported the municipal Statistics Office on August 29.
According to the office, the prices of six out of 11 surveyed goods groups saw month-on-month increases, with the highest surge of 2.53 percent seen in transport.
The prices of food and catering services went up 0.6 percent, while the prices of culture, entertainment and tourism services increased by 0.3 percent. 
The prices of housing, electricity, water, fuel and construction materials rose 0.28 percent; education up 0.12 percent; other goods and services 0.04 percent from July. 
According to the municipal Statistics Office, the prices of home appliance dropped 0.12 percent, and drinks and cigarettes fell by 0.08 percent. 
The prices of medicine and healthcare services; telecommunication; garments, hats and footwear remained unchanged.
In August, the gold price increased 0.08 percent, while that of US dollar dropped 0.11 percent month-on-month.
Vietnam agricultural opportunities huge: Australian Minister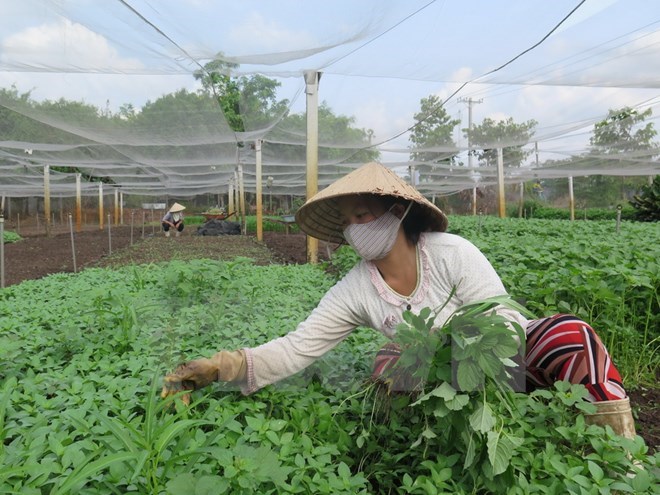 Agricultural cooperation opportunities, particularly increasing joint-venture investments between Vietnam and Australia are absolutely huge, Assistant Minister for Agriculture and Water Resources Anne Ruston told Fairfax Agricultural Media on August 28.
The Australian Centre for International Agricultural Research has invested nearly 100 million AUD in over 170 collaborative research projects in Vietnam, ranging from livestock production to policy development, food safety, fisheries and forestry, she said.
Vietnam is really open to Australia in agricultural investment, she underscored.
Australian and Vietnamese two-way farm trade is currently worth 2.8 billion AUD with Australian agricultural exports to the growing market valued at about 1.5 billion AUD in 2016-2017, comprising 712 million AUD in grains, oilseeds and pulses and 242 million AUD in feeder and slaughter cattle exports.
She expressed her delight at her trip in coincidence with the agreement between the two nations on shipping Australian cherries to Vietnam and Vietnamese dragon fruits to Australia.
During her Vietnam visit, Ruston also attended the opening of the Thanh Nhan Abattoir in line with Australian standards. She described the facility as a "genuine example" of Australia's commitment to mutual prosperity and the best possible outcomes, across the entire supply chain.
Vietnam-Laos trade, tourism fair opens in Son La
The Vietnam-Laos trade and tourism fair opened in Moc Chau district, the northern province of Son La on August 29 as part of the Moc Chau ethnic cultural festival in 2017.
The week-long fair is billed as a significant political, economic and social event to promote people-to-people exchange and friendship between Son La province and Laos's northern localities.
It also creates opportunities for enterprises from both sides to seek business potential and partners as well as enlarge trade relations.
The fair features over 140 booths displaying staples of domestic businesses and those from Houaphanh and Luang Prabang provinces. Particularly, two booths are arranged to popularise Son La's culture and tourism products.
In a bid to ensure safety for the fair, Moc Chau district has asked relevant authorities to promote security, prevent fires and explosion as well as increase environmental hygiene. 
Moc Chau Plateau is the largest of its kind in the country, with an average altitude of 1,050 metres. The area has a temperate and fresh climate all year round with many beautiful spots and historical relics.
Together with community tourism services, dairy cow farms and high-tech flower farms have been popular tourism hubs. Visitors can enjoy local delicacies like grilled stream fish and sticky rice cooked in bamboo tubes.
Tourism sector focuses on quality development
Tourism development in the coming time must focus on improving quality of products to obtain sustainable development and high competitiveness.
Deputy Minister of Culture, Sports and Tourism Huynh Van Ai made the statement at a workshop in Hanoi on August 29.
He said Vietnam's tourism has seen strong growth in recent years with the reception of 10 million international tourists and over 62 million domestic holiday makers in 2016. The total revenue was estimated at over 400 trillion VND (17.6 billion USD).
In 2017, Prime Minister Nguyen Xuan Phuc has set the target of attracting 13 million -15 million foreign visitors and posting year-on-year growth of 30-50 percent, he said.
This is an ambitious goal, which requires maximum efforts of all sectors and people to turn the tourism sector into a spearhead economy.
Head of the Vietnam National Administration of Tourism Nguyen Van Tuan said Vietnam served over 8.47 million overseas holidaymakers in the first eight months of 2017. 
According to the evaluation of the World Economic Forum for 2015-2017, Vietnam's tourism competitive edge increased eight places to rank 67 out of the 136 global economies.
The country is moving to build itself as a safe and environmentally-friendly destination to lure more visitors both at home and abroad in the future.
Strong marketing strategy needed to bolster tra fish exports
A stronger marketing strategy coupled with substantial improvement in tra fish quality is needed to bolster the export of the fish as rough seas are still ahead for this product, experts said.
Incorrect and defamatory information broadcast by foreign media hurt Vietnamese tra fish exports in the second quarter of the year, To Thi Tuong Lan, Deputy General Secretary of the Vietnam Association of Seafood Exporters and Producers (VASEP), said.
The smear campaign targeting Vietnamese tra fish resulted in a decrease in the shipments to many European countries in Q2. Exports to Spain experienced the sharpest fall of 67 percent in the period, she added.
However, the situation has improved greatly in the third quarter, after a series of actions taken by domestic tra fish exporters. They set up websites in Spanish, English, Dutch and Italian to provide their target consumers with sufficient information on fish products, from cultivating to packaging processes, as well as nutrition ingredients in each product. Facebook, Twitter and Instagram also served as effective channels to persuade foreigners to choose Vietnamese tra fish.
The moves help Vietnamese tra fish export gain a year-on-year increase of 8.2 percent to over 1 billion USD in the first eight months of the year. Shipments to the EU went up 23 percent, China 43 percent, Brazil 58 percent and the US 8.4 percent.
Along with improving prestige for Vietnamese tra fish through the media, scientific articles and research papers published internationally also play a crucial role, Lan highlighted. 
"There are only 21 articles about Vietnamese tra fish made public on foreign websites and media system while the number of those on the US cod is over 2,000", she said.
On the other hand, to ensure fish product quality, the Government has also issued Decree 55/2017/ND-CP regulating standards for tra fish farming, processing and exports.
The Ministry of Agriculture and Rural Development also joined hands with the Ministry of Science and Technology to build a national catfish programme and pilot a high value production chain, which proved its success at the Vinh Hoan group in the Mekong Delta province of Dong Thap.-
New collateral rules good for VN banks: Moody's
The speedy repossession of collateral is a credit-positive step for Vietnamese banks, which continue to grapple with legacy asset-quality issues caused by rapid credit growth and loose underwriting standards of the past decade, Moody's Investors Services said in a note on August 28.
Previously, because of rules and a cumbersome, lengthy legal process, it took banks and the Vietnam Asset Management Company (VAMC), a State-owned company that specialises in buying non-performing loans (NPLs) from banks, several years to repossess collateral.
Because of lack of clarity in the country's laws on collateral repossession, the VAMC's cumulative NPL recovery rate has been low at around 20 percent.
However, on August 15, the National Assembly enacted Resolution 42/2017/QH14 that permits banks and the VAMC to deal with NPLs by rapidly repossessing collateral in the event of borrower default.
"The ability to repossess collateral is a critical next step in resolving NPLs, and we expect Resolution 42, which removes previous legal impediments, to help improve the rate of collateral repossession by banks and the VAMC," Moody's noted.
The new regulation also rebalances the bargaining power of banks and the VAMC vis-à-vis borrowers.
The effectiveness of the regulation is apparent in the VAMC's first repossession of collateral for an NPL, which it completed in just one week after Resolution 42 took effect. On August 21, the VAMC repossessed Saigon One Tower in downtown HCM City.
Investors kicked off the 5 trillion VND (220 million USD) Saigon One Tower project in 2007, and construction was slated to be complete by 2009. However, the project dragged on and construction came to a standstill in 2011 when 80 percent of the work was over. The investors had incurred around 7 trillion VND in debts.
However, Moody's noted, though banks can reduce their reported NPLs by offloading problem loans to the VAMC, the banks' asset quality and profitability will improve only if and when the VAMC successfully sells the repossessed assets.
Ratio of short-term funds for long-term loans to be revised
The State Bank of Vietnam (SBV) is adjusting for the second time the roadmap to apply the maximum ratio of short-term funds used for medium- and long-term loans.
According to a new draft circular to revise Circular No 36/2014/TT-NHNN on regulating prudential ratios for credit institutions and foreign bank branches, the maximum ratio of short-term funds used for medium- and long-term loans will be at 45 percent in 2018 and 40 percent in 2019.
This is the second time the roadmap for the ratio is being revised.
The first amendments to the circular were made in May last year with the ratio reduced from 60 percent in 2016 to 50 percent from January 1, 2017 to December 31, 2017. It will drop to 40 percent from the beginning of 2018.
The SBV said the second adjustment is based on its assessment and scrutiny of the country's economic indicators in the first months of 2017 as well as the Government's macroeconomic regulation direction in the last months of the year.
The new draft circular has been made public on the SBV's website for recommendations.
Earlier, during a regular Government meeting in May, Prime Minister Nguyen Xuan Phuc issued a resolution in which he directed the SBV to consider and adjust expansion of the credit limit for medium- and long-term loans of credit institutions.
The Government has also affirmed that the capital adequacy ratios applied for credit institutions and foreign bank branches that participate in programmes and projects under the Government's instruction will be different from the average ratio. For example, for the lending programme on encouraging development of the hi-tech agriculture industry, Deputy Prime Minister Vuong Dinh Hue has asked the SBV to consider the proposal of commercial banks to not include medium- and long-term loans for the programme in the maximum ratio of short-term funds used for medium- and long-term loans mentioned above.
According to the SBV, the medium and long-term capital source should be supplied via the securities channel, but in Vietnam, this source of capital is still mainly mobilised via the banking channel.
The SBV's statistics revealed that medium and long-term loans still account for 53-55 percent of the total loans, while medium- and long-term mobilised capital is only 13-15 percent of total mobilised capital.
The SBV is concerned it is a risk for the banking industry if there is an imbalance in the ratio of short-term capital for medium- and long-term loans.
Fish and seafood expo opens in HCM City
A three day expo showcasing primarily fish and fishery products of Vietnam running Aug. 29-31 has opened as planned at the Saigon Exhibition and Convention Centre in Ho Chi Minh City.
The Vietnam Association of Seafood Exporters and Producers – the organizer of the event – said they hope that this year's annual event will contribute to the growth of fish and fishery exports for businesses in these industries.
On opening day, exhibitors from 15 countries showcased their wares is an estimated 350 pavilions.
The event is where food professionals can source the latest trends and technologies in industries related to wild caught as well as farmed fish and seafood (whether freshwater or saltwater), says the Association.
Moreover, attendees can join many related activities during this event including cooking demonstrations and numerous seminars related to the management of fisheries and aquaculture businesses.
RoK group invests in renewable energy power in Quang Binh
Dohwa Engineering Company Limited from the Republic of Korea (RoK) has began construction of a renewable energy power complex in Le Thuy district of the central coastal province of Quang Binh.
The 55-million-USD project includes sub-projects of generating 550MW of solar power, 100MW of biomass power and building resort areas and water parks.
In the first phase, the Korean group will construct a solar power plant with a capacity of 49.5MW.
The project is expected to be put into operation at the end of 2018.
Bac Ninh: 98 percent of locals access clean water
Up to 98 percent of the population of the northern province of Bac Ninh has accessed clean water thanks to different sources to water supply projects.
In rural areas, 36 water supply projects invested by state budget were put into operation. They have a total capacity of 57,000 cubic metre per day, providing clean water to over 50,480 households.
Major effectively operating water works include those in Dinh Bang ward in Tu Son town, Trung Kien, Tan Lang communes in Luong Tai district, Tri Qua commune in Thuan Thanh, Quan Do village in Van Mon commune, Yen Phong district, and Song Ho commune in Thuan Thanh.
Nguyen Dong Thap, Director of the provincial Centre for Clean Water and Environmental Sanitation, said that the province targets all rural residents to access clean water in 2017. 
In the coming time, the province will continue calling on enterprises to engage in the effort.
Young intellectuals praised for excellent performance in poor communes
The Ministry of Home Affairs (MoHA) held a meeting on August 29 to review a pilot project selecting 600 excellent young intellectuals to work as vice chairs of the communal People's Committees in 64 poor districts nationwide.
MoHA Deputy Minister Nguyen Trong Thua said in early October 2012, his ministry finished selecting 580 young persons with university diplomas for the project, which has been carried out in 20 provinces.
They have made active contributions to building clean and strong grassroots political systems and directly engaging in local socio-economic development tasks, he noted, adding that the project has also helped fine-tune mechanisms and policies on discovering, selecting and training young officials in Vietnam.
Over the last five years, 351 project members have proactively suggested and directly carried out 834 socio-economic development programmes, plans and projects.
Thua cited a Ngoc Linh ginseng farming model initiated by Vice Chairman of the Tra Linh communal People's Committee Dinh Hong Thang in Quang Nam province, saying this model has helped local residents escape from poverty. Meanwhile, a plan on building clean water supply system implemented by Vice Chairman of the Ba Dien communal People's Committee Nguyen Anh Khoa in Quang Ngai province has helped curb skin diseases in the locality.
Those programmes, plans and projects have helped raise local people's income and awareness of socio-economic development, custom changes and cultural preservation, the official added.
As of June 30 this year, 564 project members had been qualified for continuing the task after the project expires, but four of them did not want to continue working in the localities they used to serve.
Up to 217 project members (or 38.7 percent) have been appointed as communal civil servants while 13 (2.3 percent) have been promoted to chairpersons of the communal People's Committees. Seventeen members (3 percent) have been elected chairpersons of the communal women's unions, Vietnam Fatherland Front committees and youth union committees. Sixty-eight others (12.1 percent) continue to serve as vice chairs of the communal People's Committees. 
Another 148 project members in 26 districts of nine provinces haven't been appointed to any positions, Thua said.
Addressing the meeting, Deputy Prime Minister Truong Hoa Binh affirmed that the Party has consistently attached importance to the role of the youth. The project of 600 communal vice chairs shows the Party and Government's trust in the young generation.
He recognised the project members' excellent performance in fulfilling assigned tasks, adding that the project has also created a chance for young intellectuals to improve themselves.
He also pointed out certain shortcomings, including local administration's lack of awareness of the project members' role and long-term preparation of personnel for their localities.
The Deputy PM asked the beneficiary localities to better use the young intellectuals after the project is over while working to encourage young people's dedication.
At the event, the MoHA presented merit certificates to 16 collectives and 88 persons with eminent performance in the project implementation.
Can Tho, RoK locality boost tourism cooperation
A workshop to promote tourism and health connection between Can Tho and Gyeongbuk-do province of the Republic of Korea (RoK) was held in the Mekong Delta City on August 29.
The event was hosted by the Can Tho Union of Friendship Organisations and representatives from the Korean province.
Enterprises from the two localities discussed cooperation potential, and proposed measures to promote ties in health care and medical tourism.
According to the municipal union, the event opened up exchange opportunities for Can Tho and RoK partners, contributing to relations between the two localities.
VN–Laos trade fair 2017 opens in Son La     
The Viet Nam–Laos trade and tourism fair 2017 has been kicked off in the northern province of Son La on Tuesday.
The event is one of the activities being organised under the framework of the ethnic festival of Son La Province's Moc Chau District in 2017.
The fair is a significantly political, economic and social event that contributes to the friendship and cooperation between the local people of Son La and the northern provinces of Laos.
It is also an opportunity for enterprises in Son La Province and northern Laos provinces to seek information, opportunities, potentials, customers, as well as business partners, to expand their trade relations.
It features 140 booths set up by exhibitors from Vietnamese firms and Laos' Houaphanh and Luang Prabang provinces.
At this fair, there are two booths to promote the cultural and tourism products of the ethnic people in Son La Province. They introduce to visitors the potentials, advantages and the cultural beauty of the province.
The event will go on until September 4.  
National CPI hits eight-month high in August     
Viet Nam's consumer price index (CPI) increased by 0.92 per cent in August, the highest month-on-month increase in the first eight months of this year, the General Statistics Office (GSO) announced on Tuesday.
August's CPI increase was driven by price rises in foodstuff (1.64 per cent), housing and construction materials (1.27 per cent), transportation (2.13 per cent) and health-care services (3.72 per cent), said Do Thi Ngoc, director general of the GSO's Price Statistics Department.
Other goods and services that recorded slight price increases included restaurant and catering services, education, equipment and home appliances.
The CPI experienced a year-on-year rise of 3.84 per cent in the eight months. The rate, however, was still lower than respective figures seen in the same period of 2010, 2011 and 2012 at 8.61 per cent, 17.64 per cent and 10.41 per cent, respectively, Ngoc said.
She said core inflation rose 0.1 per cent in August month-on-month and 1.31 per cent year-on-year. Eight-month core inflation increased 1.47 per cent from a year earlier, lower than the planned inflation of 1.6-1.8 per cent.
In August, gold prices surged 1.11 per cent from last month but down 2.35 per cent compared to last year's corresponding period while price of US dollars saw a slight month-on-month decrease of 0.03 per cent. 
Tra Vinh to build two IPs     
Authorities in Tra Vinh southern province have allowed Dong Do Southern Construction Investment Joint Stock Company to build infrastructure for two industrial parks.
Total investment capital for the two parks is VND2.05 trillion (US$89.99 million).
The Cau Quan Industrial Park is located on more than 130ha in Cau Quan Township, Tieu Can District, with estimated capital of VND850 billion. Meanwhile, the Co Chien Industrial Park will be built on 200ha in Cang Long District, with investment capital of VND1.2 trillion.
The province currently has the Dinh An Economic Zone in Tra Cu and Duyen Hai districts and the Long Duc Industrial Park in Tra Vinh City. The two areas have attracted 60 projects, of which 43 are funded by domestic investors with total registered capital of nearly VND96 trillion and 14 are foreign invested projects with total capital of more than $3 billion.
El Salvador calls for investment from Viet Nam     
With its strategic geographic location and ports and airports, El Salvador can be a gateway for Vietnamese goods to enter American markets, especially Central American, according to the Viet Nam Chamber of Commerce and Industry.
Speaking at a seminar on investment opportunities and trade development with El Salvador in HCM City on August 29, Vo Tan Thanh, director of VCCI's HCM City branch, said Viet Nam and El Salvador only established diplomatic ties in 2010.
Trade between the two countries increased from US$10 million in 2011 to nearly $30 million last year, with garment and textiles, footwear, electronic products, timber, plastics and automobile components being the key items of trade, he said.
El Salvador is a small country in Central America with an area of 21,000sq.km and a population of nearly seven million, he said.
"The El Salvador market is small but has a lot of potential and can lead to other large markets like the US and other countries that it has free trade agreements with."
El Salvador's Deputy Foreign Minister Carlos Castaneda said this is the most cost-competitive country to set up and operate a business.
UK newspaper Financial Times's investment journal fDi Intelligence has rated El Salvador as the most cost-effective country in Central America.
It also has among the lowest tax rates in the region, Castaneda said.
Besides recognition as a cost-effective location, its infrastructure is among the best in Latin America and Central American, he said.
Its modern infrastructure connects the main cities in the region and enables efficient logistics, he said.
"In terms of trade openness, we offer preferential access to a potential market of 1.2 billion consumers in 43 countries around the world."
Its strategic geographic location enables quick access to major American cities, with many major freight companies like DHL and UPS setting up operations in the country, he said.
As part of its commitment to attracting investment, El Salvador offers attractive tax incentives and has a legal framework that facilitates and guarantees the protection of investment because the country is interested in developing long-term relationships with investors, he said.
"We invite you to explore El Salvador's attractive investment opportunities in strategic sectors like aeronautics, agro industry, energy, light manufacturing, offshore business services, specialised textiles and apparel, and tourism."
Viet Nam's fruits like dragon fruit have great potential to be exported to El Salvador since it does not have them, he said, adding, "I am striving to create conditions for developing a market for this fruit in El Salvador."
In addition, El Salvador's long coastline offers a good opportunity for Vietnamese firms to invest in aquaculture and seafood processing and export to third countries.
The same day, El Salvador opened an honorary consulate in HCM City to promote investment and trade ties between the two countries. 
FE credit launches Fast Cash, Simply Text – Get Cash     
VPBank Finance Company Ltd (FE CREDIT) launched an exclusive feature, Fast Cash, Simply Text – Get Cash last week to provide first-time credit-card users with unprecedented convenience.
Fast Cash allows customers to gain access to cash from their credit card limit by simply sending an SMS from their mobile phone and getting a unique code, which can be presented at designed distribution points of Vietnam Post and Sacombank branches for cash withdrawal.
The customers do not need to pay a withdrawal fee.
Kalidas Ghose, CEO of FE CREDIT, said: "As a market leader, we believe in creating unique Fast and Easy experiences for our customers. Fast Cash, Simply Text – Get Cash is a pioneering initiative which will provide a tangible benefit to our valued cardholders."
A pioneer in Consumer Finance, FE CREDIT, has established a solid foundation to become the market leader of the unsecured consumer loans market.
FE CREDIT currently provides consumer lending services such as personal loans, two-wheeler loans, consumer durable loans and credit cards. FE CREDIT serves more than six million customers and cooperates with 5,500 partners at 9,000 Points of Sale (POS) nationwide. 
Vinausteel protests unfair land lease fee
Vinausteel, the joint venture between Vietnam Industry Investment Corporation from Australia and Vietnam Steel Corporation, proposed related governmental agencies to cancel the collection of additional land lease fees charged since 2003 to ensure its legal rights and avoid unnecessary complaints.
After receiving the investment certificate to build a steel rolling mill in Hong Bang district, Haiphong city from the Haiphong People's Committee, Vinausteel was allowed to rent a land area of 55,767 square metres for 30 years from June 28, 1994 in accordance with Decision No.224/QD-DC. The annual land rental fee was $1.8 per square metre, which was then adjusted to $1.35 per sq.m.
However, this adjusted price is still higher than the leasing price applied to other enterprises at similar locations. In accordance with the Vietnamese Land Law 2003 and Article 9 of Decree No.142/ND-CP, effective from December 12, 2006, Vinausteel has the right to receive a much lower rental price equal to only 0.5 per cent of the land value. Specifically, Vinausteel's current lease charge is 5-9 times as much as the fees paid by other enterprises renting similar locations.
Vinausteel requested related agencies to adjust its land lease fee to be compatible with Decree 142, but the agencies have yet to issue a response.
Furthermore, Vinausteel's land lease fee rises by 15 per cent every five years, as stipulated in Notice No.277/TB/CCT of the Hong Bang Department of Tax. The land lease fee stipulated by the Haiphong People's Committee in 2005 was VND21,500 ($0.9) per sq.m, which, after the latest adjustment after 15 years of operation, has been increased to VND45,600 ($2) per sq.m. Vinausteel said that this was wholly unfair and should be revised.
Thus, not only was Vinausteel applied a high land lease fee of $1.35 per sq.m, but it was also charged an additional $230,147 due to the adjusted price after 15 years of operation.
According to Vinausteel, this additional payment is not compatible with Decree No.46/2014/ND-CP on the collection of land and water surface rent. This decree does not explicitly cover collecting land lease fees from 15 years ago, especially when the enterprise is asking for a reduction of land lease payments.
Vinausteel complains that it has suffered a loss of tens of billions of VND due to this unreasonable fee. It submitted a document to the Government Office to consider the issue and direct the Ministry of Fiannce, the General Department of Taxation, the Haiphong People's Committee, and other related agencies to eliminate the additional charge of $230,147 to maintain a fair business environment and ensure the legal rights of enterprises in Vietnam.
Uber reduces fare gap in Ho Chi Minh City
Uber Vietnam's representative said that its taxi brand UberX will raise fares in Ho Chi Minh City from August 24, closing up with traditional taxi fares.
In particular, UberX's fare will increase from VND7,000 ($0.3) per kilometre to VND8,500 ($0.37) per kilometre in Ho Chi Minh City. Fare based on time stays unchanged at VND450 ($0.02) per minute, while the minimum fare and cancelation fee will still be VND15,000 ($0.66).
Earlier, in November 2016, Uber has already raised prices once. Then the minimum fare increased from VND5,000 ($0.22) to VND15,000 ($0.66), and the kilometre charge increased from VND5,000 ($0.22) to VND7,000 ($0.3). Uber drivers still have to pay a 25 per cent commission to the company.
Besides, Uber has a strategy of raising fares based on actual traffic flows to support drivers. In rush hours or during heavy rain, the minimum fare can be 1.3 times as much as the usual. By raising minimum fares, UberX fares may exceed traditional cabs.
Through these two bouts of raising prices, Uber fares are getting closer to traditional taxis. According to the statistics of Ho Chi Minh City Taxi Association, the minimum price of Vinasun's 5-8-seater passenger cabs is VND11,000-12,000 ($0.48-0.53) and charges VND14,000-16,000 ($0.62-0.7) per kilometre for the first 30 kilometres, after which the charge is VND11,200-VND14,200 ($0.49-062). This price is similar to other taxi brands in Ho Chi Minh City, such as Mai Linh or Savico Taxi. Some less popular taxi brands even offer slightly lower prices.
Uber's new price may make people wonder about the future policy of its biggest rival GrabTaxi, and whether Uber will be overtaken by both GrabTaxi and traditional taxis due to its new price policy.
Previously, there were concerns that traditional taxi companies, especially Vinasun and Mai Linh Group, are losing the competition with Grab and Uber due to the dizzying rise in the number of Grab and Uber cabs.
According to newswire Vneconomy, in recent years, the number of Uber and Grab taxis has exceeded the figure set by Ho Chi Minh City's taxi planning. Notably, Uber and Grab's fleets have reached a total of 21,000 cabs, while Ho Chi Minh City's taxi demand is 11,000-12,000 only.
Many traditional taxies lead by Vinasun insisted on pressing litigation against Grab and Uber for unfair completion. This campaign has been gradually gaining momentum as other Vietnamese taxi companies from Hanoi and Ho Chi Minh City join.
At present, Uber's rivals have not released any statement on this new policy. However, it is forecasted that the fierce battles among taxi brands in Vietnam may not stop easily in the coming period. 
Southern lottery companies bow down to Vietlott
Giving in to the dominance of Vietnam Lottery Company (Vietlott), traditional lottery companies in Ha Nam and Thua Thien-Hue provinces decided to co-operate with Vietlott instead of seeking a confrontation.
Nguyen Thanh Dam, deputy general director of Vietlott, told Vnexpress that they have signed contracts with lottery companies in Ha Nam and Thua Thien-Hue provinces. Accordingly, along with traditional lottery business, these companies will become Vietlott's agents to take the bonus.
According to rumours, Capital Lottery Company also intends to co-operate with Vietlott to improve its business results.
Capital Lottery Company lost its shine since Vietlott's Mega 6/45 has appeared. The company also launched a computerised lottery to compete with Vietlott, but failed because Vietlott has been offering much higher jackpot prizes.
Besides, the company also saw a decrease in profit. Notably, in 2016, Capital Lottery earned VND728 billion ($32.04 million) in revenue, however its profit was only over VND3 billion ($132,045), equalling a quarter of 2014. In 2017, the company expected to earn VND3.6 billion ($158,454) in profit only.
In its report related to its development strategy by 2020, Capital Lottery set the target to prevent decrease in revenue and profit.
In the race to gain market share, traditional lottery companies in the South were forced to raise their maximum prize to VND2 billion ($88,260) since January 1 from the previous VND1.5 billion ($66,195) in an effort to compete with Vietlott.
In early December, Vietlott officially expanded to Hanoi with 150 agents, hoping to replicate its success of the past few months in the south.
In January 2016, Vietlott signed an exclusive 18-year contract with Malaysian conglomerate Berjaya to launch computerised lottery games.
The Mega 6/45 is the company's first foray into the market. Players select six numbers from 1 to 45 and win a jackpot that starts at VND12 billion ($538,000) by matching all six numbers from the draw. Each ticket costs VND10,000 ($0.40).
The prize will keep growing until there is a winner. The odds of winning have been estimated at around one to 8.14 million, lower than the odds of being struck by lightning.
In 2016, Vietlott reported a revenue of VND1.6 trillion ($70.6 million). This is the highest annual revenue since the company's establishment in 2011.
CII sells stake to quench capital thirst
Ho Chi Minh City Infrastructure Investment JSC (CII) will sell a large volume of shares to cover its capital demand to develop numerous large-scale projects, according to newswire CafeLand.
Notably, CII will sell 123.12 million shares at the price of VND15,000 ($0.66) for its existing shareholders. CII expected to divest at least 50 per cent worth VND923.4 billion ($40.6 million) via the sale.
After the sale, CII plans to sell 17.71 million individual shares to South Korean Rhinos Asset Management Co., Ltd. (RAM) at the price of VND26,040 ($1.16) apiece.
After these sales, CII's chartered capital is expected to reach VND4.2 trillion ($184.7 million).
RAM was also a partner in a previous deal. Earlier in November 2016, CII signed a deal to sell a convertible bond volume worth $40 million to KEB Hana Banktrustee and Custodian Business. Under the contract, CII would issue 400 non-guaranteed convertible bonds at the price of $100,000 per unit and an annual yield of 1 per cent for five years.
CII is entitled to redeem bonds from the third year after the sale, but the buyback amount cannot exceed 50 per cent of the total bond volume. Accordingly, RAM is allowed to convert at most 50 per cent of the bonds into shares with a conversion price of VND38,500 ($1.71) per share or resell the bond volume at the initial price to CII and enjoy a yield of 4.5 per cent a year.
CII has a portfolio of strategic infrastructure assets, including water treatment plants. The water company also holds a stake in Thu Duc Water BOO Corp., a water treatment company now 49 per cent owned by Manila Water.
In addition to water infrastructure, CII holds several toll road concessions, such as the 15.7-kilometre expansion of Hanoi Highway, which connects Ho Chi Minh City with southern industrial hub Bien Hoa.
In July, CII signed a memorandum of understanding with Hong Kong Land to jointly develop luxurious high-end apartments on a prime land site that local authorities agreed to give to the company as it conducted the build-transfer (BT) infrastructure project in Ho Chi Minh City's Thu Thiem area.
The joint venture will develop luxury residences, promising to set a new quality standard for Vietnam. The projects will consist of approximately 965 units including luxury apartments, airy villas, and garden apartments enjoying the scenic views of the Saigon River and the surrounding green areas.
These projects will also offer apartment units designed in a variety of sizes ranging from one to four bedrooms, with amenities such as swimming pools, public green areas, and boutique supermarkets to ensure a lush and comfortable living environment.
CapitaLand wades deeper into Vietnamese commercial real estate
To capitalise on the increasing interest of foreign real estate investors in Southeast Asia in general and Vietnam in particular, CapitaLand Limited has set up its first commercial fund in Vietnam named CapitaLand Vietnam Commercial Fund I (CVCFI) with a capital of $300 million.
The fund, which will have a life span of eight years, will be used to invest in Grade A commercial real estate in Vietnam. CapitaLand will hold a 40 per cent stake in CVCFI, while the remaining interest will be held by major institutional investors, the company announced on its website.
Lim Ming Yan, president cum CEO of CapitaLand Limited, said, "We see increasing investor interest in Southeast Asia, particularly in Vietnam. CapitaLand is positive about the growth trajectory of Vietnam and foresees that this trend will continue for at least the next ten years. Besides the growing demand for residential properties with urbanisation, we also see strong potential upside in the commercial real estate sector, given the mismatch between the supply and demand of quality office space."
"CVCFI brings us a step closer to our goal of raising funds with $7.34 billion in total assets under management by 2020. It comes on the back of our largest private equity partnership, the $1.5-billion Raffles City China Investment Partners III, which invests in prime integrated developments in gateway cities in China," Lim added.
CapitaLand has been considering Vietnam its focus in recent years, and in January this year, CapitaLand made its first foray into commercial real estate through the acquisition and development of an international Grade A office tower in the central business district of Ho Chi Minh City which will feature a direct connection to an upcoming metro station. With the completion of this development in 2020, CapitaLand plans to continue to diversify their portfolio and strengthen their foothold in the country.
Vietnam is the third largest market for CapitaLand in Southeast Asia, after Singapore and Malaysia.  CapitaLand has nine residential developments, 22 serviced residences with over 4,700 units, and one international Grade A office development across six cities in Vietnam.
Tech Expo 2017 held in HCMC
VietnamWorks, together with TopITworks, both members of the Navigos Group, organized the largest technology career fair - Tech Expo 2017 - in Ho Chi Minh City on August 29.
With the theme "Tomorrow Land", Tech Expo 2017 saw the participation of 37 sponsoring employers and more than 1,500 jobseekers in the IT sector. Every recruitment booth received between 100 and 200 CVs.
Compared to last year, Tech Expo 2017 was much more dynamic, with candidates being proactive in job seeking rather than just looking around. Many employers scanned profiles and arranged interviews with potential employees.
The KMS Company, one of the leading outsourcing companies in Vietnam, had more than ten recruitment staff at the expo, who received CVs and described job requirements. "Our company often misses its recruitment targets at all levels, as there is a shortage of qualified candidates," said Ms. Phuong Le, Recruitment Manager at KMS. "Many jobseekers don't meet our requirements in terms of professional skills, and we must give them two months of training. Young employees are still short of career orientation and engagement, which creates challenges in hiring at KMS."
KMS has tried to shorten its interview process to two rounds and hoped to recruit potential candidates at the expo who meet its requirements and have the abilities needed to join the company as soon as possible.
There were also representatives from various Japanese companies in attendance, including those seeking candidates in Vietnam and recruitment service companies looking for candidates to work in Japan. "Due to the scarcity of Japanese speakers, we have targeted English speakers as well," said Mr. Yoshiki Matsubara, Chief Sales Officer at Igs Asia. "Candidates will be trained in the Japanese language. Those possessing Japanese language skills will receive a salary 5 per cent higher than others. For candidates who want to work in Japan, besides specialized knowledge, they must also improve their global mindset and teamwork ability, and be passionate about studying Japanese culture."
"How to secure a $5,000 IT Job" was the topic of a panel discussion at the expo and received much attention. Ms. Nguyen Phuong Mai, Managing Director at Navigos Search, discussed the obstacles that impact IT employees' salaries. "IT candidates often demand benefits before contributing to the company, and this attitude leads to concerns about paying high salaries," she said. "In addition to specialized knowledge and skills, employers also pay attention to a candidate's attitude. Building a personal image is of overriding importance, since employers can check a candidate's behavior, even on social platforms. Therefore, it's important to show your personal image consistently, in reality and on online channels. Candidates must contribute to the company before demanding more benefits."
According to Navigos Search, one recruitment process for a senior position paying $7,000 involved 15 interview rounds, included specialized knowledge, skills, personal testing, and IQ tests.
International visitors hit record in August
The latest figures from the General Statistics Office reveal that international visitors to Vietnam in August reached a record high of 1.2 million, an 18.5 per cent increase against July and up 35.1 per cent against August last year.
The reason international visitor numbers are rising dramatically is the tourism industry and travel companies adopting many measures and effectively organizing cultural and tourism activities.
Visa-free policies for citizens from the UK, France, Germany, Spain, and Italy have also been a key factor.
International visitors are estimated at 8.5 million in the first eight months of this year, up 29.7 per cent year-on-year.
Visitors from Asia totaled 6.3 million, up 34.8 per cent year-on-year. Chinese tourists numbered 2.6 million, up 51.4 per cent, South Koreans 1.5 million, up 49.3 per cent, and Japanese 518,000, up 7.4 per cent.
Those from Europe were estimated at 1.2 million, up 20.4 per cent year-on-year.
Visitors from the Americas, meanwhile, reached 565,200, up 10.8 per cent, of which those from the US reached 424,000, up 9.8 per cent.
Tourists from Australia and Africa also increased sharply over the same period in 2016.
Vietnam has great tourism potential but the country needs appropriate policies to create breakthroughs to develop it into a spearhead economic sector and affirm the country's position on the global tourism map, experts told a conference held last month in preparation for the upcoming Vietnam Private Sector Forum (VPSF).
The experts indicated that Vietnam spent $2 million on promoting tourism, which was modest compared with other countries in the region.
According to Mr. Hoang Nhan Chinh, General Secretary of VPSF's Tourism Working Group, visa policies should aim at creating favorable conditions for foreign tourists and visa exemptions should be extended to a duration of 30 days.
Exemptions should also be granted to tourists from Australia, Canada, the Netherlands, New Zealand, Belgium, and Switzerland, who spend on average $1,200 each, he said.
Higher prices push up cashew nut export revenue
Vietnam exported 188,034 tons of cashew nuts worth $1.85 billion in the first seven months of this year, down 1 per cent in volume year-on-year but up over 25 per cent in revenue.
The cashew nut export price rose 27 per cent over the same period of 2016, reaching $9,842 a ton.
Cashew nut exports to the US were worth $679.67 million, accounting for 36.7 per cent of the total and increasing 37.7 per cent year-on-year. The US is Vietnam's largest cashew nut export market.
Following was the Netherlands, accounting for 15.6 per cent of the total, reaching $288.02 million, up 44 per cent over the same period last year.
China accounted for 11.7 per cent, standing at $215.92 million, an increase of 11.5 per cent.
Rising revenue was seen in other markets: Belgium, up 95 per cent to nearly $12 million, Russia, up nearly 66 per cent to $30 million, and India, up 40 per cent to $22 million.
Exports to Pakistan and Greece, meanwhile, fell sharply, by 54 per cent and 53 per cent, respectively, in revenue.
Vietnam's total trade as at mid-August reached about $250 billion. Exports stood at about $124 billion and imports $126.4 billion, up about 19 per cent and 22.3 per cent, respectively, year-on-year, for a trade deficit of $2.4 billion.
New Managing Director for Bosch Vietnam
Bosch, a leading global supplier of technology and services, officially announced on August 28 the appointment Mr. Guru Mallikarjuna as the new Managing Director of Bosch Vietnam.
Mr. Mallikarjuna replaces Mr. Vo Quang Hue.
Bringing with him over 12 years of experience at Bosch, Mr. Mallikarjuna will continue to develop new business opportunities and increase the company's market presence in all business lines in the country.
"Bosch has maintained an excellent track record in Vietnam in the past decade and become one of the key growth markets of Bosch in Southeast Asia," the new Managing Director said. "We attribute our robust growth to the strong partnerships we have forged with our customers over the years. It is an honor for me to build on the achievements of my predecessor, who led the company through ten years of remarkable success."
In addition to his new appointment, Mr. Mallikarjuna will also head Robert Bosch Engineering and Business Solutions Vietnam as Managing Director, a role he has held since 2013.
In his four years leading the Bosch software and engineering R&D center in Vietnam, he built a dynamic corporate culture nurturing diversity and innovation. The center employs more than 1,400 associates in Ho Chi Minh City.  
Bosch in Vietnam has developed from a representative office in Ho Chi Minh City in 1994 to become one of the largest European investors, with more than 3,100 associates in total, which subsequently increases its activities in the four fields of R&D, Manufacturing, Sales, and Services.
Banks to provide $1.15bn in credit for HCMC PPP projects
Investors and banks signed a memoranda of understanding (MoU) on August 24 in Ho Chi Minh City to provide credit to eight PPP projects with total investment of around VND26 trillion ($1.15 billion).
The signing ceremony took place at a meeting between investors and banks, including Vietcombank, BIDV, Vietinbank, Agribank, SCB, TPBank, and OCB,  to implement seven major projects in the city during the 2016-2020 period that will include building the North-South axis road, Nguyen Tat Thanh Road, and Tan Phu Hospital.
Mr. Pham Manh Thang, Deputy General Director of Vietcombank, told the signing ceremony that with limited State budget funds available, public-private partnerships (PPP) are needed for the development of infrastructure and public services.
The Ho Chi Minh City Department of Planning and Investment estimates the city needs around VND850 trillion ($37.7 billion) for the seven major programs. The city's budget, however, can only cover 20 per cent of required capital.
Mr. Nguyen Thanh Long, Chairman of the Ho Chi Minh City People's Committee, was quoted as saying that the city is coping with serious challenges in environmental pollution, traffic congestion, flood control, immigration, and climate change. "These problems have directly affected local growth and competitiveness," he said. "The seven key programs will generate new momentum for the city to develop and address public concerns."
The seven programs were approved at the city's 10th Party Congress and include human resources improvements, administrative reform, a more competitive business climate, easing traffic congestion, responding to climate change, cutting pollution, and urban refurbishment and development.
Sixty per cent of the capital will be mobilized for transport infrastructure, the environment, and flooding issues.
Local authorities will work to attract potential investors, with strategies including administrative procedures reform to facilitate investors in accessing opportunities.
According to the Department, there are 23 PPP projects in the city that have completed contracts with total investment capital of over VND71 trillion ($3.2 billion). The city is continuing to implement 130 other projects with total investment of over VND395 trillion ($17.9 billion).
As at July 31, Ho Chi Minh City had 7,065 foreign investment projects with total registered capital of over $42 billion.
Franklin Group & Apax Holdings to offer American high school education
The Franklin Group and the Apax Holdings Joint Stock Company (JSC) under Egroup have worked together to launch American high school education in Vietnam through the Apax Franklin Academy system.
The two signed a memorandum of understanding (MoU) in Hanoi on August 23.
The Apax Franklin Academy will become the first academic system in Vietnam to offer high school education and college-preparatory in accordance with the Blended Learning model - a combination of online teaching and direct support at academic institutions in Vietnam.
The study cost is about 70 per cent of the cost of studying abroad. The Apax Franklin Academy also offers English language study programs, career guidance, and college preparation in the US and other countries, such as the ESL program, English Language Proficiency (ELE), and SAT / ACT / GED certification.
Apax Holdings will also provide opportunities to study in the US right after high school, through short-term cultural exchanges, overseas studies, and scholarships in the US.
Mr. Nguyen Ngoc Thuy, Chairman of Egroup and Apax Holdings, said there are now more opportunities to learn from new sources of knowledge and technology is the foundation for developing an effective learning method consistent with the trend towards globalization.
"With the development of the Franklin system, we expect the curriculum will prepare students for the best possible course of study in the US and Europe," he said.
Mr. David Hooser, Founder and Chairman of the Franklin Group, said it has had experience in the US since 2009 and he visited Vietnam to inspect education institutions before selecting Apax Holdings as a partner. "We want to create opportunities for students in Vietnam to approach modern education," he said.
Apax Holdings is an investment company in the field of education and training and is listed on the Icom Stock Exchange. In the third quarter, its shares will be transferred from UPCoM to HSX.
It will launch the five-star Apax English center within a year and will continue to invest in the iGarten Education JSC, which offers bilingual kindergarten studies applying the STEAM teaching method.
It will also cooperate with Egroup to build and finalize the Education Park project, a business training academy that has achieved success in South Korea over the last 30 years.
Impact investment manager to support women-led SMEs
SEAF, a global impact investment manager headquartered in Washington D.C., recently announced the launch of the SEAF Women's Opportunity Fund (SWOF) for Southeast Asia.
The Fund will seek opportunities to make equity and structured debt investments in small-and-medium-size enterprises (SMEs) led by women in Vietnam, the Philippines, and Indonesia.
SWOF targets transaction sizes of generally between $500,000 and $2 million in growth-oriented companies. As an impact investment fund, it also looks for businesses that have positive social and environmental impacts in addition to financial returns.
"SMEs owned by women account for 25 per cent of the total number in Vietnam and typically focus on services; a 'greener' sector of the economy" noted Ms. Dinh Thu Trang, SWOF's Investment Director in Vietnam.
A 2016 study on SMEs in Vietnam owned by women showed that one of their major disadvantages compared to those managed by men is that it is generally more difficult to access sources of funding as well as markets, due to cultural factors and social obstacles. This is a gap in the capital market but also an opportunity for an impact investment fund like SWOF.
"The Fund's establishment, together with other sources of funding that prioritize female entrepreneurs, will contribute to economic growth as well as increasing women's standing and narrowing the gender gap," Ms. Trang added.
SWOF is managed by SEAF and will comply with SEAF's global environmental, social, and governance standards. Businesses funded by SWOF will also benefit from post-investment support, particularly in the areas of financial management and corporate governance.
SEAF is an investment management group that provides growth capital and business assistance to SMEs in emerging and transition markets underserved by traditional sources of capital.
Headquartered in Washington D.C., through its network of over 30 offices around the world it invests in entrepreneurs to build successful businesses and hopes to realize both attractive returns for its investors and a measurable development impact on local communities.
Toong & International Enterprise Singapore sign partnership
Vietnamese co-working space operator Toong and International Enterprise Singapore (IE Singapore), the government agency that promotes international trade and partners Singaporean companies in going global, recently announced a new strategic partnership assisting Singaporean companies to enter Vietnam market through its network of co-working spaces and supporting eco-systems.
The agreement is part of IE Singapore's Plug and Play Network across China, India, and Southeast Asia, which aims at easing market entry for SMEs in over 45 major cities in six key markets.
The partnership will promote cooperation in providing quick and easy market access to Singaporean companies in Vietnam, with Toong providing the necessary ecosystem and resources, including co-location working spaces, a vast market network, and support and training resources to facilitate the growth and expansion of companies in Vietnam.
This is line with IE Singapore's role in partnering Singaporean companies to expand and invest overseas. Singaporean companies have shown increased interest in Vietnam over the years, and Singapore is now the third-largest foreign investor in Vietnam and its leading investor among ASEAN countries.
Toong will provide business consultation, legal, financial and other advisory services, and facilitate introductions and business matching meetings with local partners. Both Toong and IE Singapore will also organize relevant events and training to share Vietnam's business landscape and opportunities with Singapore companies.
"This partnership essentially cements Toong as a gateway for Singaporean enterprises looking to expand into Vietnam," said Mr. Phu Nguyen, Chief Strategy Officer at Toong. "Specifically, Toong will provide office solutions for Singaporean companies and offer specific assistance on potential business connections, and advise them on company registration processes as well as the local business landscape."
Toong is the first large-scale professional co-working space chain in Vietnam, providing innovative working environment services for SMEs and established enterprises in multiple industries around the country.
After more than two years in operation, the company has five locations, in Hanoi, Da Nang, and Ho Chi Minh City.
Toong quickly received funding after its first site opened in August 2015, from Openasia and its latest investor, Indochina Capital (ICC). It is also the only strategic partner of CapitaLand in developing co-working spaces in Vietnam.
VAMC seizes collateral of Sai Gon One Tower
The Sai Gon M&C complex has been seized due to its owners accruing bad debts of $308 million.
The Vietnam Asset Management Company (VAMC) said it had seized collateral from the Sai Gon One Tower Joint Stock Company (JSC), the complex owner, at 34 Ton Duc Thang Street, District 1, in Ho Chi Minh City on August 21, for the purpose of debt recovery in accordance with the law.
VAMC previously signed a debt purchase contract with a number of credit institutions for the debts of a group of customers, including the Sai Gon One Tower Joint Stock Company (formerly known as the Saigon M&C Real Estate Joint Stock Company), the Lien Phat Investment Joint Stock Company, the Minh Quan Investment and Construction Consultant Joint Stock Company, and the Tan Superdeck M&C Joint Stock Company, with total outstanding debts (principal and interest) at that time of more than VND7 trillion ($308 million).
"Although VAMC has repeatedly urged the group of customers to meet their repayment obligations, they have not done so nor adopted a viable repayment plan," a representative from VAMC said.
VAMC asked the Sai Gon One Tower Joint Stock Company to hand over collateral to fulfill its obligations, but this was never done. It therefore moved to seize collateral. The process was conducted in accordance with Article 7, Resolution No. 42 from the National Assembly on addressing non-performing loans (NPLs).
The Sai Gon M&C complex has a total area of 6,672 sq m with total investment of $256 million. The Sai Gon One Tower Joint Stock Company was established in 2004.
Digiworld moves into healthcare products
The Digiworld Corporation (DGW) has officially announced its entry into the local healthcare industry with the debut of its first product, Kingsmen, a supplement for men exclusively distributed by the company.
Along with developing its distribution network, Digiworld has set a revenue target for the product line of more than $3.5 million this year, $17.6 million next year, and $44 million in 2019.
Kingsmen is produced by Medistar Vietnam and Digiworld has been directly involved in all steps in its development, including market research and consumer needs and behavior research, and consulted on product and business development strategies as well as multimedia strategies.
Digiworld hopes to diversify its portfolio with this initial investment in the local healthcare retail market. A second product will be introduced later this year.
"Big pharmaceutical enterprises are now both product manufacturers and distributors, while small companies, who produce and distribute on a small scale, don't have the capacity to expand nationwide," said Mr. Doan Hong Viet, Chairman and CEO of Digiworld. "This is a niche market full of attraction. Digiworld's strategy is to choose quality products that have not been fully explored. The healthcare product market is in need of a moderator, a distribution channel that is broad enough for the brand to become popular among local people."
According to a report released in January by Roland Berger's, a global strategy consultancy, market expansion services (MES) in Asia have been witnessing strong growth, especially in Southeast Asia. Expected growth from 2016 to 2021 is 8.5 per cent, in which the healthcare industry is growing due to increasing quality of life and people's rising interest in health, and governments have invested more in the healthcare system at the same time. The report found that predicted growth in MES for the healthcare sector in Vietnam from 2016 to 2021 is 11.1 per cent.
In addition to the potential of MES, Mr. Viet said that the healthcare industry, especially the health protection and functional food sector in Vietnam, is now one of the most promising. It is a highly-fragmented industry, with an expected annual growth rate of about 10.31 per cent in the over-the-counter (OTC) product range from 2015 to 2020, according to Business Monitor International.
Kingsmen is a line of specialized healthcare products for men with pure and natural herbal extracts. It has a special associated formula that is packaged in a modern production line and controlled for finished product quality in accordance with ISO international standards. It helps balance metabolic activities, promote hormones, prevent aging, and promote overall well-being.
Digiworld's primary business line is electronic product distribution. Its distribution network of 6,000 outlets nationwide and logistics and after sales services help brands penetrate and develop in the market.
Seamless payments to be showcased in HCMC
SmartCard Marketing Systems Inc. has announced the launch of its Fintech ISV Channel partnership in Vietnam at the Intercontinental in Ho Chi Minh City on September 6 and 7.
"Seamless" is a key meeting place in the brave new world of commerce. It is a new event built on 20 years of experience; a seamless continuity from Asia's largest and longest-running conference focused on cards and payments to a dynamic summit and large-scale exhibition bringing together the converging worlds of e-commerce, retail, and payments.
The events' host, Terrapin, brings together a great platform to introduce banks, telecoms, retail, and global enterprises to SmartCard Marketing Systems, to build client and partner relationships.
"We enjoy the platform offered to network and engage in their seamless payment events," said Terrapin's CEO Massimo Barone. "Vietnam offers a great opportunity to bring our portfolio of products, including our ISV partner portfolio, to showcase to banks, financial institutions, and retailers. We have positioned the company at several of their events to introduce the products and solutions to grow the Fintech ISV accelerator offering with significant success."
Terrapin has been sparking ideas, innovations, and relationships that transform business for over 30 years. Using their global footprint, Terrapin brings innovators, disrupters, and change agents together, discussing and demonstrating the technology, strategies, and personalities that are changing the way the world does business.
The company's focus is to develop Issuing & Acquiring relationships with banks in the region, further expanding the company's footprint in Asia. In addition, it is expanding its China Cross-Border RMB partnership with Axepay Inc. and VeritasPay Philippines, offering a unique global solution for processing and foreign exchange settlements by country.
SmartCard Marketing Systems Inc. is a FinTech advisory company and solutions provider to the payments industry, delivering cloud-based EMV Host Acquiring & Issuing solutions to banks, telecoms, and other enterprises. The company's in-house lab also offers customers proprietary software solutions, including Genorocity.com, a coupon and incentive platform for the Retail & Events industry, Check21SAAS.com, a Remote Deposit Check solution for X9 clearing, and Mtickets.event, an events and Mticketing platform for the Events Industry.
HSBC Vietnam named Best Foreign Bank in Vietnam
In recognition of its exceptional performance in Vietnam's banking sector, HSBC Vietnam was named Best Foreign Bank in Vietnam at the prestigious FinanceAsia Country Awards, the eleventh time in 12 years it has won the coveted prize and the second time in three years it has topped the Best Foreign Investment Bank in Vietnam category.
Over the last year, the bank, once again, stood out for its strong financial performance overall, achieving a sharp increase in pre-tax profit and customer loans thanks to strong revenue growth and very low loan impairment charges and careful control over costs.
Against a challenging and volatile market and in spite of stiff competition from both newly-arrived banks and increasingly competitive existing banks, HSBC managed to maintain strong capital and liquidity positions.
"It's a tremendous feeling to once again win both of these highly-prized awards from one of the leading publications in the financial industry, FinanceAsia," said HSBC Vietnam's CEO Mr. Pham Hong Hai. "This recognition underscores the success of our growth strategy in this challenging but exciting market."
Mr. Hai added that HSBC Vietnam has leveraged its global network to capture business opportunities from robust foreign direct investment (FDI) inflows, resilient manufacturing, and a growing affluent segment.
The award for Best Foreign Investment Bank is also a milestone for HSBC Vietnam and one that proves it can offer clients comprehensive financial solutions besides commercial banking capabilities. "To be acknowledged in this way is a remarkable tribute to the headway we have made in broadening our business and bringing the full spectrum of investment banking, commercial banking, and market solutions to our clients in Vietnam," Mr. Hai said. "Business with clients from South Korea, China, Hong Kong and Thailand has grown substantially in recent years and HSBC Vietnam has also supported several large State-owned and private companies to expand internationally."
Leveraging HSBC's global network and on-the ground insights from local market experts, HSBC Vietnam is able to provide relevant and up-to-date market intelligence tailored to nearly every major industry sector necessary to help deliver the client's M&A ambitions, whichever direction they choose.
FinanceAsia noted that HSBC Vietnam ranked first in the merger and acquisition (M&A) league tables from 2012 to 2016 with a combined value of completed and announced deals of $3.8 billion, by advising landmark cross-border M&As and helping Vietnamese companies obtain foreign equity and expertise.
It served as joint book-runner, arranger, billing, and delivery bank on major deals in Vietnam and also as sell-side advisor for France's Casino Group in their divestment from the Big C retail group; the largest ever retail transaction in Vietnam's history. In the last few years, HSBC Vietnam has also advised on five of the ten largest M&A deals in Vietnam, demonstrating its strength in advising on complex, cross-border transactions relating to Vietnam.
On the loan financing side, HSBC also made the country's largest-ever domestic currency transaction, a $180 million equivalent, three-and-a-half-year club deal for a telecoms company. "Receiving these two awards fills us with pride and highlights the resilience we have shown in challenging times," said Mr. Hai. "More than anything, these accolades also further encourage us to work even harder and further raise the bar for banking and investment in Vietnam."
Shinhan Bank signs MoU with Momo E-Wallet
Shinhan Bank Vietnam announced on August 21 that it has signed a Memorandum of Understanding (MoU) for a cooperative arrangement with the Online Mobile Service Joint Stock Company (M_Service), the owner of MoMo e-wallet.
Prior to signing the MoU, Shinhan Bank and M_Service signed a contract linking the bank's customer account numbers with MoMo e-wallet, which expires at the end of September.
"One of Shinhan's 2017 strategies is to globalize digital banking, and with MoMo e-wallet, we believe our strategy will be successfully implemented," said Mr. Shin Dong Min, CEO of Shinhan Bank Vietnam.
The MoU is necessary to strengthen the relationship between Shinhan Bank and M_Service to develop financial services with digital applications in Vietnam.
The cooperative deal will also open up a new development direction in attracting customers to use Shinhan's modern and convenient digital banking services. At the same time, existing and prospective customers of MoMo e-wallet will also be offered new banking services from one of the strongest foreign banks in Vietnam.
MoMo e-wallet is a smartphone app with over 3 million users, providing customers with a One Touch Payment experience and more than 200 convenient services, including money transfer, mobile top-up, bill payments, pay-as-you-go, and mobile commerce.
It owns a network of more than 4,000 transaction offices in 45 cities and provinces in Vietnam, allowing more than 2 million customers in remote areas - where banking and smartphone services are still not so popular - to gain access to modern financial services.
Vinalines, Belgium's Rent-A-Port N.V ink cooperation deal
The Vietnam National Shipping Lines (Vinalines) and Belgian Rent-A-Port N.V signed a Memorandum of Understanding (MoU) on August 30 on the possibility to cooperate in grain specialised port, processing zone and logistics system projects in Lach Huyen port and Dinh Vu industrial zone, in Hai Phong city.
Rent-A-Port is an engineering and investment company, specialised in the development of marine infrastructures and industrial zones worldwide. It offers services ranging from consultancy and full project management to co-investment in marine related projects and industrial zones.
Under the MoU, the two companies will seek collaboration opportunities in a joint venture company to develop grain handling port in Hai Phong International Gateway Port. They are also keen on another joint venture firm to construct a 250 hectare logistic centre opposite the grain port, facilitating grain loading, storage, processing and distributing.
Along with joining the construction of a 630-metre port in Dinh Vu industrial park, which is currently invested by Vinalines Dinh Vu JSC, the Belgian enterprise can buy 10 percent of Vinalines's charter capital when the company becomes privatised in April, 2018.
Thus, Rent-A-Port N.V will attach its long-term benefits to Vinalines as well as support the Vietnamese company in advanced technology transfer, human resources training, financial capacity improvement, business management, service supply and market development.
With adorable port infrastructure and logistic system coupled with considerable management experience and financial capacity, collaboration between the two enterprises is expected to enhance competitiveness and maintain crucial roles of both sides in marine port and logistic sectors in Vietnam.
Vinalines is a leading marine business in Vietnam, especially in port and marine services in Hai Phong city. The firm will make an initial public offering (IPO) in December this year. Under the IPO plan, the State will hold 65 percent of the company's registered capital of 12.3 trillion VND (541.2 million USD) while it will sell 35 percent to domestic and foreign businesses.
Vinalines is also allowed to hold 65 percent of registered capital at key ports, including Hai Phong, Sai Gon and Da Nang. 
Vinalines currently manages a fleet of off-shore vessels with total capacity of nearly two million tonnes, occupying some 25 percent of the national fleet's capacity. It has contributed capital to 14 sea port businesses, which have a total length of more than 13,000 metres, 30 percent of the total length of ports nationwide. They include a number of deep-water harbours that can receive 190,000 tonne vessels.
Vegetable exports in August hit nearly 300 million USD
Vegetable exports in August reached 296 million USD, bringing total revenue in the first eight months of this year to 2.32 billion USD, a rise of 46.5 percent compared to the same period last year.
China, Japan, the US and the Republic of Korea were the leading markets for Vietnamese vegetables, consuming 85 percent of the exports. 
High growth was also seen in other markets, including Japan with 61.7 percent, the United Arab Emirates, 61.4 percent; China, 61.3 percent; and Russia, 49.4 percent.
Vietnam also imported 169 million USD worth of vegetables, bringing the total figure in the first eight months to 1.02 billion USD, up 93.7 percent year on year.
According to the Ministry of Agriculture and Rural Development, in August, the domestic fruit market fluctuated greatly due to changes in markets and heavy rains.-VNA
Derivatives trading: Individual investors must pay 0.1% tax
Individual investors that participate in derivatives trading market have to pay a 0.1 per cent income tax for derivatives trading transactions.
The tax is imposed on the trading prices of derivatives transactions, which could be sell and buy orders and expiry of the futures contracts.
A similar tax rate has also been imposed on foreign institutional investors, while domestic institutional investors have to pay tax in accordance with Việt Nam's corporate income tax regulations.
The tax rate is regulated under Document 11133/BTC-CST, issued by the Ministryof Finance on August 21, on taxing investors' income from trading derivatives futures contracts.
Taxation on investors' income from derivatives trading transactions began on August 10, the day the derivatives market begins operation.
Number of new firms increases by 16%
More than 85,350 firms were established in the first eight months of this year with total registered capital of VNĐ822 trillion (US$36 billion), statistics of the Business Registration Department under the Ministry of Planning and Investment showed.
These figures represented a rise of 16.3 per cent in the number of new firms and an increase of 44.8 per cent in registered capital over the same period last year.
Notably, average capital for a business rose 24.5 per cent over the same period last year to reach VNĐ9.6 billion.
The department said the foundation of new businesses increased in most sectors, especially real estate (up by 65.8 per cent); finance, banking and insurance (up by 33.4 per cent); education and training (up by 30 per cent); and healthcare (up by 29.6 per cent).
The only sector witnessing a decline in the number of new firms was transport and warehousing.
More than 19,150 firms resumed operation in the eight-month period, increasing slightly by 2.4 per cent over the same period last year.
However, 45,770 firms temporarily halted operation in the period, a rise of 13.3 per cent. More than 7,750 firms completed dissolving procedures, 92 per cent of which had registered capital of below VNĐ10 billion each.
VNA/VNS/VOV/SGT/SGGP/TT/TN/Dantri/VNEVET